Back to Press Releases
FOR IMMEDIATE RELEASE (October 8, 2020)
J. J. Keller to Present Safety Professional of the Year (SPOTY) Award Winners
Safety Professionals Invited to Support the Winners at Virtual Presentation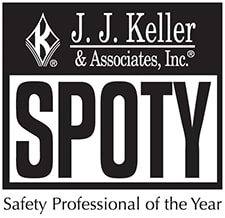 Neenah, WI - Three safety professionals are about to receive one of the most prestigious awards in the industry at the 19th annual Safety Professional of the Year (SPOTY) award presentation hosted by J. J. Keller & Associates, Inc.
The event recognizes the critical role of safety professionals in building safety cultures and ensuring employees return home safely to their families. Winners are chosen by a panel from among J. J. Keller's 70-plus safety consultants and editors who are experts in the areas of environmental health and safety. J. J. Keller's SPOTY Award program has awarded approximately $225,000 in cash and prizes since it began in 2002.
Due to COVID-19, the award ceremony will take place virtually this year, beginning at 1:00 PM CST on Thursday, October 22, 2020.
"While we wish we could bring all three winners onsite to award them, hosting the event virtually will allow safety professionals from around the country to attend this free event," said J. J. Keller president and CEO, Rustin Keller. "It's an exceptional opportunity to learn how some of the leaders in the industry have created best-in-class safety cultures."
After each winner is announced, they'll briefly share their approach to safety, including safety metrics and tactics, overcoming unique safety challenges, innovating for safety, safety in the era of a pandemic and developing a safety vision.
To register to attend this year's virtual J. J. Keller SPOTY Awards, visit JJKeller.com/SPOTY2020.
About J.J. Keller & Associates, Inc.
J. J. Keller & Associates, Inc. is the most respected name in safety and regulatory compliance. Since its beginning as a one-man consulting firm in 1953, the company has grown to over 1,500 associates serving more than 600,000 customers — including over 90% of the Fortune 1000® companies. The company's subject-matter expertise spans nearly 1,500 topics, and its diverse solutions include training via online courses, streaming video or DVD; online management tools; managed services; consulting services; online and print compliance manuals and instructional publications; ELogs and mobile technology, forms and supplies.
Safety professionals rely on J. J. Keller's in-house expertise and wide selection of products and services to reduce risk and improve regulatory compliance, performance management, and operational efficiency. For more information, visit JJKeller.com
For more information, contact: