Back to Press Releases
FOR IMMEDIATE RELEASE (June 22, 2017)
J. J. Keller & Associates, Inc. to Offer ELogs to Carriers Doing Business with Schneider Transportation Management
Third-party carriers doing business with freight broker have an opportunity to prepare for Electronic Logging Device mandate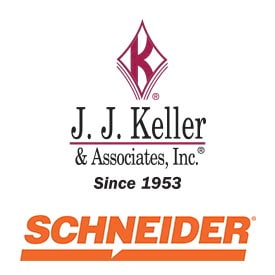 Neenah, WI - As the looming Electronic Logging Device (ELD) mandate gets closer to implementation this year, many carriers are scrambling for advice and compliant solutions — especially smaller and mid-size fleets that often do business with brokerage firms for freight opportunities.
Beginning in December, the Federal Motor Carrier Safety Administration (FMCSA) will mandate all motor carriers in the U.S. to have a compliant, operating electronic logging device in commercial vehicles. This regulatory change is necessary to ensure all commercial drivers are complying with the Hours of Service regulations to help keep professional truck drivers and the motoring public safe.
Part of the Schneider Enterprise, Schneider Transportation Management is one of North America's largest freight brokers, offering truckload, less than truckload (LTL), temperature-controlled, flatbed and intermodal services.
As an industry leader, Schneider Transportation Management only does business with carriers that are fully compliant with all Department of Transportation (DOT) rules and regulations. While such third-party carriers are free to obtain compliant ELog solutions from a wide variety of commercially-available providers, Schneider Transportation Management is proud that safety and compliance specialist J. J. Keller will begin offering third-party carriers that broker with Schneider the option to use J.J. Keller for ELD compliance services.
"Schneider Transportation Management creates durable, effective, effortless solutions for customers and carriers alike," said Erin Van Zeeland, Schneider's senior vice president and general manager of logistics services. "Shippers are concerned about capacity disruptions caused by non-compliant carriers being put out of service and we are committed to easing customer concerns in our brokerage division regarding the ELog mandate."
J. J. Keller's solution is easy to install and use. It also has a full team behind the implementation to provide carriers with ongoing training and support to ensure compliance long after installation.
"J.J. Keller has the capacity to sell services to a large number of third-party carriers and to prepare those carriers for compliance with the ELD mandate before the rule takes effect in December," said Tom Reader, director of marketing for J. J. Keller & Associates, Inc. "We're very excited to offer our ELD solution to third-party carriers that do business with Schneider Transportation Management. Our system provides easy implementation, competitive pricing and the best technology for Hours of Service compliance. We address more rule sets than anyone else."
The cloud-based J. J. Keller® Encompass® Fleet Management System with ELogs gathers engine data using the J. J. Keller® electronic logging device and the J. J. Keller Mobile® app interface, available for smart phones and tablets. Service options range from stand-alone ELogs to advanced features that include electronic driver vehicle inspections, driver performance tracking, fuel use and automated International Fuel Tax Agreement (IFTA) reporting.
For more information on J. J. Keller® ELogs, visit JJKeller.com/Elogs.
Carriers interested in learning more about Schneider Transportation Management can visit SchneiderCarriers.com for more information. Shippers interested in learning more about Schneider Transportation Management can visit Schneider.com..
About J. J. Keller & Associates, Inc.
Since its beginning as a one-man consulting firm in 1953, J. J. Keller & Associates, Inc. has grown to become the most respected name in safety and regulatory compliance. Now over 1,400 associates strong, J. J. Keller serves over 600,000 customers — including over 90% of the Fortune 1000® companies. The company's subject-matter expertise spans nearly 1,500 topics, and its diverse solutions include ELogs and mobile technology; training via online courses, streaming video or DVD; online management tools; managed services; consulting services; online and print publications; forms and supplies.
Transportation professionals rely on J. J. Keller's in-house expertise and wide selection of products and services to reduce risk and improve regulatory compliance, performance management, and operational efficiency. For more information, visit JJKeller.com.
About Schneider
The Company is a leading transportation and logistics services company providing a broad portfolio of premier truckload, intermodal and logistics solutions and operating one of the largest for-hire trucking fleets in North America. For more information about Schneider, visit Schneider.com.
For more information, contact:
Mary Borsecnik
Corporate Marketing Communications Specialist
J. J. Keller & Associates, Inc.
1-800-843-3174, ext. 7050
Email: mborsecnik@jjkeller.com