Back to Press Releases
FOR IMMEDIATE RELEASE (January 10, 2023)
J. J. Keller to Help Iowa Employers Take Advantage of State's New Entry-Level Driver Training Program Funding
New grant makes it easier to develop in-house training programs to recruit and retrain CDL drivers.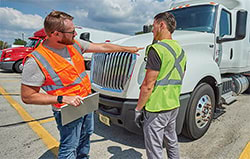 Neenah, WI - On December 5, 2022, Iowa Governor Kim Reynolds announced the Iowa Entry-Level Driver Training Program, a new funding opportunity making it easier for Iowa employers to train their drivers to earn a commercial driver's license (CDL).
Training became more challenging when the Federal Motor Carrier Safety Administration's (FMCSA) new Entry-Level Driver Training (ELDT) rule went into effect on February 7, 2022. Under the rule, drivers can no longer take their CDL test until they complete a specific ELDT curriculum provided by a school or other entity listed on FMCSA's Training Provider Registry (TPR).
Iowa's new grant will provide $6 million to reimburse eligible organizations in Iowa that offer entry-level driver training programs in-house or through a certified training provider. To help Iowa employers take advantage of this grant, J. J. Keller & Associates, Inc. is offering its ELDT Trainer Certification Program.
"Our program is specifically designed to qualify an organization's trainers to train their own entry-level drivers in compliance with the new ELDT rule, including delivery of the required theory and the behind-the-wheel aspects of entry-level driver training," said Dustin Kufahl, vice president of driver training at J. J. Keller. "As the leader in transportation safety and compliance since 1953, we've been prepared for this new rule since the day it went into effect."
J. J. Keller's ELDT Trainer Certification Program also includes full support to ensure employers are registered on the Training Provider Registry (TPR) as mandated by the rule. In addition, J. J. Keller also offers ELDT Trainer Certification Programs for drivers looking to earn their Passenger or Hazmat endorsement.
"We've found that companies that are able to provide entry-level driver training are better able to recruit CDL drivers because they can remove the challenges of finding and affording training," added Kufahl. "And having high-quality trainers creates high-quality drivers who are more likely to be loyal to an employer that has helped open the door for them."
Iowa employers can apply for the state grant through February 3, 2023 by visiting https://iowagrants.gov.
For more information about J. J. Keller's ELDT Trainer Certification Program, visit https://www.jjkellersafeandsmart.com/eldt-trainer-certification-program or call 833-982-1236.
J. J. Keller & Associates, Inc.
Since we began as a family-owned company in 1953, our purpose at J. J. Keller & Associates, Inc. has been to protect people and the businesses they run. Today, serving 500,000+ companies across North America, our associates are proud to make a larger impact than ever. Transportation, construction and industrial organizations of all sizes rely on our expert insights to help create safe work environments and simplify complex government regulations. They trust in our comprehensive portfolio of solutions, including cloud-based management tools, training, consulting, professional services, publications, forms, PPE and safety supplies. For more information, visit JJKeller.com.
For more information, contact: