Press Room
News Releases
FOR IMMEDIATE RELEASE (June 25, 2015)
J. J. Keller technology growth fuels sales expansion; company to add 100 positions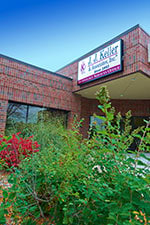 Neenah, WI - J. J. Keller is hiring for 100 new positions now and over the next several months, the result of the company's increased focus on its technology solutions, especially its Electronic Logging Device (ELD). The majority of the new positions are in technology and sales.
J. J. Keller currently has over 170 technology associates across a number of departments, including Corporate Information Technology, E-Commerce and Technology Services commercial software development. The Technology Services team builds and supports the development of mobile and web-based applications for professionals in transportation, workplace safety, and human resources. The rapid expansion of this team led J. J. Keller to open a new office at 5 Innovation Drive, Appleton this past spring.
"We're excited about adding to our technology and sales teams, as it will support our company's continued growth," said Rustin Keller, Executive Vice President & COO at J. J. Keller. "Driving this growth are upcoming regulatory changes, along with our expanding product portfolio of innovative and flexible technology solutions."
The 100 new positions will be a combination of hires at the Innovation Drive and Neenah locations, remote workers, and partner staffing. Technology positions include Mobile/Web .NET Developers, Software Quality Assurance Analysts, User Interface Design Analysts, Associate Product Managers and Technical Support Specialists.
The new sales positions will be across all sales areas. Many of the positions will be focused on selling the company's proprietary ELD. The Federal Motor Carrier Safety Administration is expected to release a final rule in September requiring all truck drivers who complete paper logs to switch to ELDs. The new positions will help prepare the company for this landmark regulatory change.
For more information on the new positions or to apply, visit jobs.jjkeller.com.
About J. J. Keller & Associates, Inc.
Since its beginning as a one-man consulting firm in 1953, J. J. Keller & Associates, Inc.® has grown to become the most respected name in safety and regulatory compliance. Now over 1,300 associates strong, J. J. Keller serves over 420,000 customers — including over 90% of the Fortune 1000® companies. The company's subject-matter expertise spans nearly 1,500 topics and its diverse solutions include E-Logs and mobile technology; training via online courses, streaming video or DVD; online management tools; managed services; consulting services; publications; forms and supplies.
Professionals in transportation, manufacturing, hazardous materials, construction, and human resources rely on J. J. Keller® in-house expertise to reduce risk and improve regulatory compliance, performance management and operational efficiency. For more information, visit JJKeller.com.
For more information, contact:
Mary Borsecnik
Corporate Marketing Communications Specialist
J. J. Keller & Associates, Inc.
1-800-843-3174, ext. 7050
Email: mborsecnik@jjkeller.com