Back to Press Releases
FOR IMMEDIATE RELEASE (July 12, 2023)
J. J. Keller Teams Up with DRIFIRE, Expanding SAFEGEAR PPE Line to Include Flame-Resistant Clothing
New FR Apparel Protects Workers from Dangerous Arc Flashes and Flash Fires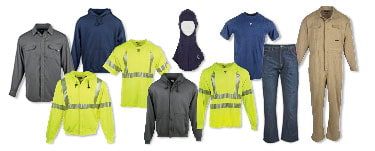 Neenah, WI - There are 30,000 arc flash incidents every year on average, according to commonly used statistics. It's estimated that those incidents resulted in average annual totals of 7,000 burn injuries, 2,000 hospitalizations, and 400 fatalities per year.
One way to help protect employees from arc flash is with is flame-resistant (FR) apparel, which is why J. J. Keller SAFEGEAR® PPE has teamed up with FR-apparel brand DRIFIRE to expand their offerings. A wide selection of Category 1 and 2 FR clothing — which is also arc rated (AR) — is now available from J. J. Keller & Associates, Inc., including:
base layer short- and long-sleeve T-shirts
high-visibility vests and sweatshirts
coveralls, jeans, a work shirt, and a balaclava
Workers in the electric industry and welders need protective clothing, such as FR and/or AR-rated clothing, per OSHA standards 1910.269 and 1910.252, respectively.
"Serious Injuries and illnesses may result from contact with arc flashes, blasts, or flash fires if workers don't use FR clothing when required," said Ray Qureshi-Chishti, EHS editor and subject-matter expert at J. J. Keller. If they're wearing regular clothing, it can melt onto their skin, causing severe burns."
"We're excited to expand our SAFEGEAR line by bringing our customers FR clothing to meet their PPE needs," said Joel Clark, forms and supplies portfolio director for J. J. Keller. "Not only is DRIFIRE a respected name, they offer advanced and proprietary fabrics for enhanced breathability and comfort."
For more information, visit http://jjkeller.com/shopPPE
About J. J. Keller & Associates, Inc.
Since we began as a family-owned company in 1953, our purpose at J. J. Keller & Associates, Inc. has been to protect people and the businesses they run. Today, serving 500,000+ companies across North America, our associates are proud to make a larger impact than ever. Transportation, construction and industrial organizations of all sizes rely on our expert insights to create safe work environments and simplify complex government regulations. They trust our diversified portfolio of solutions – cloud-based management tools, consulting, professional services, training, forms, PPE and safety supplies – to safeguard workers, reduce risk and build operational confidence. www.jjkeller.com
For more information, contact: