Back to Press Releases
FOR IMMEDIATE RELEASE (June 15, 2022)
J. J. Keller Survey Confirms Fleet Manager Challenges Remain High
Primary stressor includes leadership commitment to safety
The J. J. Keller Center for Market Insights, the research arm of J. J. Keller & Associates, Inc., released its second Transport Industry Study, The State of Fleet Management — Insights on Today's Fleet Manager. Fielded in February 2022, the survey included fleet managers with job responsibilities ranging from compliance management to dispatch and training. Most respondents (81%) work in fleets with less than 100 trucks.
STUDY HIGHLIGHTS
Fleet managers' stressors include struggles to stay FMCSA compliant, not having leadership support, and managing overall safety.
Seventy-seven percent (77%) of respondents struggle with recordkeeping.
Eighty-seven percent (87%) of those surveyed expressed that their job is "moderately" to "extremely challenging."
KEY FINDINGS
Staying Compliant with FMCSA Regulations is a Struggle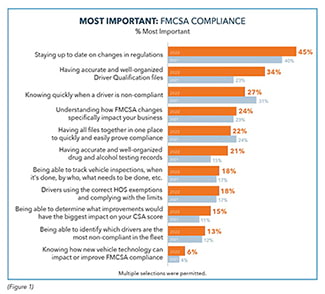 Three core FMCSA compliance area challenges emerged in the survey results:
Recordkeeping — having all files in one place, accurate, and organized
Visibility — ensuring drivers are complying with the correct HOS limits, and knowing when and which drivers are non-compliant
Knowledge — staying up to date with regulatory changes and understanding how those changes impact the business
It's a common theme heard by J. J. Keller Industry Business Advisor Josh Lovan. "Managing a fleet is like solving a 3-D puzzle that's constantly moving. To stay in the game, you need accurate fleet data and a near-encyclopedic knowledge of the FMCSRs." Lovan suggests mitigating these stressors with a fleet management system (FMS). "These systems provide data and visibility to what's happening in your fleet so that you can make good operational decisions as swiftly as possible and mitigate risk. But finding a FMS provider who knows the rules and can provide support is key."
Getting Leadership Support
"Keeping upper management engaged in safety. Putting safety before production." One respondent contributed this open-ended comment in response to "the most challenging aspects" of their job.
Indeed, this year found that 45% of fleet managers agree that their company is "completely" or "mostly" focused on "solutions that improve the bottom line/profitability."
Fleet managers are struggling to rectify the low level of leadership commitment to safety relative to their needs and expectation of support. They want leaders to:
Consistently show that safety is important (51% - up 10% over last year)
Prioritize safety above all else in decision-making (44%)
Lovan agreed that top-down support is essential. "Leaders who pay lip service to safety but then financially reward or refuse to penalize non-compliant behavior are active saboteurs of fleet management strategies." In situations like these, he suggests that fleet managers find success by making their case to leadership using industry and company data that presents the benefits of prioritizing safety and correcting unsafe behaviors.
In Conclusion
Wendy Blezek Fleming, Customer & Market Insights Manager, oversaw the execution of the survey and expressed her hopes that this data serves as a springboard to industry discussions on how to better support fleet managers. "We applaud fleet managers' work ethic and unwavering safety commitment to make highways and workplaces safer for all. It's important work."
Lovan agrees and notes that "in an industry hyper-concerned with driver retention, leaders must look to solve the underlying conditions facing their fleet managers, or they may face a new shortage."
Additional Resources
The survey identified other significant stressors, including driver hiring and retention, DOT recordkeeping, and driver training. The full report is available as a free download.
On Tuesday, June 28, J. J. Keller is offering a complimentary virtual event that examines the Fleet Management Study and best practices related to driver training, FMCSA compliance, managing safety and operating costs, and more. Entitled Transportation Pain Points — Am I All Alone Here?, registration is open now. Presenters include Rick Malchow, Industry Business Advisor; Bob O'Connell, Regional Account Executive-National Accounts; Wendy Blezek Fleming, Customer & Market Insights Manager.
About the J. J. Keller Center for Market Insights
The J. J. Keller Center for Market Insights is the collaborative research arm of J. J. Keller & Associates, Inc. The center originated in 2019 with a focus on sharing with the general public trends and insights from an abundance of safety and compliance data gathered by J. J. Keller over decades, serving more than 700,000 customers across the United States. Through historical data, new proprietary studies, and partnerships with reputable, research-focused third-party organizations, the center publishes ongoing reports to spur discussion and advancements in safe, respectful workplaces, job sites, and highways. To contact the J. J. Keller Center for Market Insights, contact sbaranczyk@jjkeller.com.
About J. J. Keller & Associates, Inc.
Since we began as a family-owned company in 1953, our purpose at J. J. Keller & Associates, Inc. has been to protect people and the businesses they run. Today, serving 500,000+ companies across North America, our associates are proud to make a larger impact than ever. Organizations of all sizes rely on our expert insights to help create safe work environments and simplify complex government regulations. They trust in our comprehensive portfolio of solutions – including ELogs, dash cams and mobile technology; driver training via online courses, streaming video or DVD; cloud-based management tools; managed services; consulting services; online and print publications; forms, PPE and safety supplies.
Transportation professionals rely on J. J. Keller's experts, products and services to reduce risk, improve regulatory compliance, manage performance, and boost operational efficiency. For more information, visit JJKeller.com.
For more information, contact:
Susan Baranczyk
J. J. Keller & Associates, Inc.
1-920-722-7391
Email: sbaranczyk@jjkeller.com