Press Room
News Releases
FOR IMMEDIATE RELEASE (September 12, 2015)
J. J. Keller sponsors 2015 Fox Cities Marathon speaker, relay teams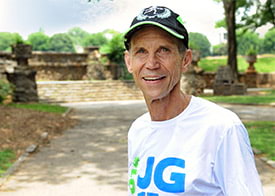 Neenah, WI – Listening to former Olympian Jeff Galloway talk about running, it's nearly impossible not to get excited about the sport.
That's why J. J. Keller & Associates, Inc. decided to sponsor Galloway as the speaker for the 2015 Fox Cities Marathon weekend of events, to be held September 18-20. Galloway will also conduct three presentations exclusively for J. J. Keller associates covering walking, running, and staying injury free.
J. J. Keller is also sponsoring three marathon relay teams, which include associates from various departments throughout the organization. One team will have the honor of Jeff Galloway as a team member, who will kick things off by running the first leg of the relay.
"Jeff's passion for running and leading an active lifestyle is infectious," said J. J. Keller Health & Wellness Manager Tim Pingel. "He's truly an inspiration to our associates, whether they're experienced runners or just starting out with an exercise program."
"I'm excited to be on a relay team with my coworkers," said Emma Sloma, a J. J. Keller associate. "It's nice to work for a company that consistently supports wellness."
Galloway was an All-American collegiate athlete and a member of the 1972 U.S. Olympic team in the 10,000-meter event. He is the author of North America's best-selling running book, "Galloway's Book on Running," and writes a monthly column for Runner's World magazine.
Galloway visited J. J. Keller in spring for the company's fitness walk, and shared these thoughts: "Whether you run or do some other form of exercise, if you do it regularly, it will change your life. There are so many benefits to an active lifestyle."
About J. J. Keller & Associates, Inc.
Since its beginning as a one-man consulting firm in 1953, J. J. Keller & Associates, Inc. has grown to become the most respected name in safety and regulatory compliance. Now over 1,400 associates strong, J. J. Keller serves over 420,000 customers — including over 90% of the Fortune 1000® companies. The company's subject-matter expertise spans nearly 1,500 topics, and its diverse solutions include E-Logs and mobile technology; training via online courses, streaming video or DVD; online management tools; managed services; consulting services; online and print publications; forms and supplies.
Professionals in transportation, manufacturing, hazardous materials, construction, and human resources rely on J. J. Keller® in-house expertise and wide selection of products and services to reduce risk and improve regulatory compliance, performance management and operational efficiency. For more information, visit JJKeller.com.
For more information, contact:
Mary Borsecnik
Corporate Marketing Communications Specialist
J. J. Keller & Associates, Inc.
1-800-843-3174, ext. 7050
Email: mborsecnik@jjkeller.com