Back to Press Releases
FOR IMMEDIATE RELEASE (October 8, 2020)
J. J. Keller Simplifies Compliance with Recently Announced 2021 UCR Open Enrollment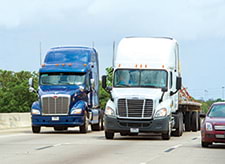 Neenah, WI - The Federal Motor Carrier Safety Administration has announced that the Unified Carrier Registration (UCR) enrollment period for 2021 is now open from October 1, 2020 through December 31, 2020. To help interstate motor carriers submit their information accurately and on time, J. J. Keller & Associates, Inc. offers its Unified Carrier Registration Service.
"The 2021 UCR renewal process may seem particularly burdensome for carriers because registration for 2020 didn't open until February 13 of this year, and the COVID-19 pandemic further delayed the enrollment and enforcement period," said Shaun Gunderson, vice president of managed services at J. J. Keller. "So now carriers have to go through the entire process again just a few months later. That's why we offer carriers the simplicity of handling the entire UCR renewal process on their behalf, ensuring everything is complete and filed on time."
Additionally, J. J. Keller offers its DOT Authority Monitoring Service, which provides carriers with UCR and MCS-150 filing; year-round monitoring of their UCR, MCS-150, operating status, and insurance coverage; a free monthly report identifying compliance gaps; a free welcome kit of J. J. Keller supplies; and access to J. J. Keller's regulatory experts.
For more information about J. J. Keller's Unified Carrier Registration and DOT Authority Monitoring services, visit TruckingAuthority.com or call 888-601-2017.
About J.J. Keller & Associates, Inc.
J. J. Keller & Associates, Inc. is the most respected name in safety and regulatory compliance. Since its beginning as a one-man consulting firm in 1953, the company has grown to over 1,500 associates serving more than 600,000 customers — including over 90% of the Fortune 1000® companies. With subject-matter expertise spanning a multitude of industries and regulatory agencies, the company offers consulting and managed services for fleet and transportation, workplace safety and environmental, and human resources. In addition to these professional services, J. J. Keller also offers electronic logging devices, training, online management tools, publications, and forms and supplies. For more information on how to reduce risk and improve regulatory compliance, visit JJKeller.com
For more information, contact: