Back to Press Releases
FOR IMMEDIATE RELEASE (February 13, 2020)
J.J. Keller Service Simplifies Unified Carrier Registration Renewals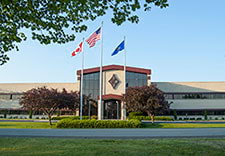 Neenah, WI - The Federal Motor Carrier Safety Administration (FMCSA) has announced a deadline of June 1, 2020, for interstate motor carriers to file their annual Unified Carrier Registration (UCR) renewal. To help carriers ensure their information is submitted accurately and on time, J.J. Keller & Associates, Inc. offers its Unified Carrier Registration Service.
"The UCR renewal process can be a time-consuming challenge for carriers," said Shaun Gunderson, vice president of managed services at J.J. Keller. "Our experienced team of regulatory advisors makes sure that each carrier's UCR renewal is accurate so carriers only pay what they're required to and never have to worry about the deadline. We ensure everything is complete and filed on time."
J.J. Keller also offers their DOT Authority Monitoring Service to provide year-round monitoring of a carrier's UCR, in addition to its operating status, MCS-150 filing status, and insurance coverage.
All interstate, for-hire property and passenger carriers, private property carriers, and exempt motor carriers operating commercial motor vehicles (CMVs) must register and pay a UCR fee annually based on the number of CMVs they operate in interstate commerce. The fee must be paid to the carrier's base state before it can operate in interstate commerce.
"We've been helping carriers comply with complex government regulations since 1953," Gunderson added. "And we're proud to make UCR filing easier and worry-free for them."
For additional information about J.J. Keller's Unified Carrier Registration and DOT Authority Monitoring services, visit TruckingAuthority.com or call 888-601-2017.
About J. J. Keller & Associates, Inc.
J. J. Keller & Associates, Inc. is the most respected name in safety and regulatory compliance. Since its beginning as a one-man consulting firm in 1953, the company has grown to over 1,500 associates serving more than 600,000 customers — including over 90% of the Fortune 1000® companies. With subject-matter expertise spanning a multitude of industries and regulatory agencies, the company offers consulting and managed services for fleet and transportation, workplace safety and environmental, and human resources. In addition to these professional services, J. J. Keller also offers electronic logging devices, training, online management tools, publications, and forms and supplies. For more information on how to reduce risk and improve regulatory compliance, visit JJKeller.com.
For more information, contact: