Back to Press Releases
FOR IMMEDIATE RELEASE (October 29, 2020)
J. J. Keller Rises on Fastest Growing Consulting Firms List
Employers' Need for Safety Consulting Grows During Pandemic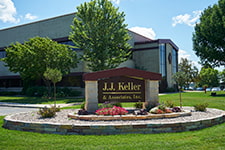 Neenah, WI - Consulting Magazine has named J. J. Keller & Associates, Inc. to its list of Fastest Growing Consulting Firms for the 6th consecutive year. J. J. Keller ranked No. 14 on the list, up from No. 45 in 2019.
J. J. Keller provides client-centered consulting services in the areas of transportation, environmental, health and safety, and hazardous materials.
"Throughout the pandemic, our consultants have provided personalized support for clients, using remote delivery methods that put safety at the forefront," said Steve Murray, vice president of content and consulting services at J. J. Keller. "Companies want to give their employees best-in-class safety management programs and effective compliance processes, so demand for our consultants' unique level of expertise continues."
In addition, in 2020, J. J. Keller experienced significant growth in its consulting services around commercial driver training. The company's Safe & Smart Driver Training Program provides flexible, blended learning for adults, delivered by instructors with extensive driving background and teaching experience. You can learn more about the J. J. Keller® Safe & Smart Driver Training Program at JJKeller.com/SafeandSmart.
Annually, Consulting Magazine ranks the consulting profession's "movers and shakers" based on each company's three-year growth rate. This is the sixth year of the magazine's list, and J. J. Keller's sixth year on the list.
About J. J. Keller & Associates, Inc.
J. J. Keller & Associates, Inc. is the nation's leading provider of regulatory, safety and compliance solutions, serving more than 700,000 customers, including 90% of the Fortune 1000® companies. Organizations of all sizes rely on our expert insights to help create safe work environments and simplify the complexities of regulatory compliance. Our diversified portfolio of solutions and services including online management tools, publications, training, forms, supplies, consulting and professional services is trusted to safeguard workers, reduce risk and build operational confidence. As a privately-held, family-owned company since 1953, we are committed to helping protect lives every day. JJKeller.com
For more information, contact: