Back to Press Releases
FOR IMMEDIATE RELEASE (March 13, 2020)
J.J. Keller Releases Free Whitepaper to Help Employers Address Coronavirus Outbreak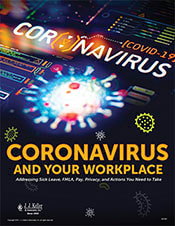 Neenah, WI - To help businesses of all sizes manage the ongoing coronavirus (COVID-19) outbreak, J.J. Keller & Associates, Inc. — the nation's leader in safety and workplace regulatory compliance — has released an informative whitepaper to help employers:
Assess risk
Implement preemptive measures
Ensure compliance with OSHA standards
Navigate employee rights in regard to viral outbreaks
"Outbreaks like these require a multi-faceted approach," explained Terri Dougherty, a human resources editor for J.J. Keller. "An organization's response to this crisis doesn't just need to address business operations and employee concerns — it must also include safety considerations and steps that will stem the severity of the outbreak."
Senior Environmental Health & Safety Editor Travis Rhoden agreed with Dougherty's assessment.
"Your company's response needs to take into account communicating with your employees regularly and openly. What are the related policies and procedures, safety concerns, human resources matters like FMLA and privacy, and supply and production issues for your business? This new resource touches on all of these topics and more, providing employers with the thorough thought process they need to adapt to this developing situation," said Rhoden.
Click here to view the free whitepaper. For more information on COVID-19, visit www.cdc.gov/coronavirus/2019-ncov/summary.html.
About J. J. Keller & Associates, Inc.
J. J. Keller & Associates, Inc. is the most respected name in safety and regulatory compliance. Since its beginning as a one-man consulting firm in 1953, the company has grown to over 1,500 associates serving more than 600,000 customers — including over 90% of the Fortune 1000® companies. The company's subject-matter expertise spans nearly 1,500 topics, and its diverse solutions include training via online courses, streaming video or DVD; online management tools; managed services; consulting services; online and print compliance manuals and instructional publications; ELogs and mobile technology, forms and supplies.
Safety professionals rely on J. J. Keller's in-house expertise and wide selection of products and services to reduce risk and improve regulatory compliance, performance management, and operational efficiency. For more information, visit JJKeller.com
For more information, contact: