Back to Press Releases
FOR IMMEDIATE RELEASE (April 20, 2023)
J. J. Keller Recognized by Better Business Bureau of Wisconsin Torch Awards for Ethics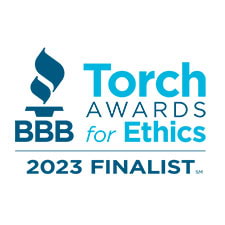 Neenah, WI - Today, the Better Business Bureau of Wisconsin recognized J. J. Keller & Associates, Inc. among Wisconsin businesses with the highest standards of ethics and trust with their employees, customers and local communities. The BBB Wisconsin Torch Awards for Ethics is an annual program of the BBB of Wisconsin Foundation.
"The BBB Ethics Awards application is a grueling process, requiring the organization to analyze and communicate all aspects of their internal and external procedures to the judges," said Julie Albrecht, Executive Director of the BBB of Wisconsin Foundation. "These organizations should be immensely proud of their commitment to ethics in their day-to-day operations."
Award recipients embody the BBB's mission to advance marketplace trust. The BBB Wisconsin Torch Awards for Ethics independent panel of judges, made up of business and community leaders, evaluates companies based on character, culture, and interactions with customers and the community.
J. J. Keller received recognition as a runner up in Category 4 of the awards, for companies with 501+ employees, where WPS Health Systems placed as the winner. You can view the full list of award recipients here.
"This recognition from the BBB is confirmation that associates at J. J. Keller are living out our corporate purpose," said Rustin Keller, president and CEO of J. J. Keller. "We help others create safe, respectful workplaces, and that is all about ethics. What we do for our clients begins here, within J. J. Keller, and our commitment to lead by example."
J. J. Keller has an A+ rating with the BBB Wisconsin and has been accredited by the BBB since 2018.
The BBB Ethics Awards Luncheon will take place on May 18, 2023, at the Italian Community Center in Milwaukee.
J. J. Keller & Associates, Inc.
Since we began as a family-owned company in 1953, our purpose at J. J. Keller & Associates, Inc. has been to protect people and the businesses they run. Today, serving 500,000+ companies across North America, our associates are proud to make a larger impact than ever. Transportation, construction and industrial organizations of all sizes rely on our expert insights to create safe work environments and simplify complex government regulations. They trust our diversified portfolio of solutions – cloud-based management tools, consulting, professional services, training, forms, PPE and safety supplies – to safeguard workers, reduce risk and build operational confidence. JJKeller.com.
For more information, contact: