Back to Press Releases
FOR IMMEDIATE RELEASE (February 27, 2019)
J.J. Keller Receives Patent for Hazmat Placard Fastener
Leader in Safety and Compliance Solutions Reinvents Traditional Solution to a DOT Requirement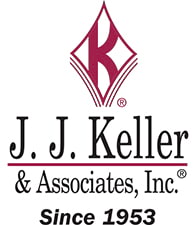 Neenah, WI - The United States Patent and Trademark Office has issued U.S. Patent No. 10,204,533 to J.J. Keller & Associates, Inc., the nation's leading provider of safety and regulatory compliance solutions. The patent, related to hazardous materials (hazmat) placards, further extends the company's intellectual property portfolio. The Department of Transportation (DOT) requires that placards be affixed to transportation containers to identify hazardous contents. The patented invention relates to the clips (or fasteners) used to hold the placards. Placard fasteners are known in the industry to be problematic as they weaken and fail over time.
A particular type of DOT placard, known as a "flip-placard" because it contains placards for multiple materials and can be easily flipped to identify the material being transported, uses clips to secure the placard in place. Typically, clips are exposed to harsh environmental conditions, experience wear and eventually fail. The J.J. Keller patented fastener is specially designed to help prevent the clips from weakening, saving companies time, effort and money to replace them. Further, it reduces the risk of non-compliance due to a damaged or missing placard.
"At J.J. Keller, we listen intently to our customers' daily challenges," said Rustin Keller, president and CEO of J.J. Keller & Associates, Inc. "We use our innovation processes to determine how we can solve for those challenges. The patent for placard fasteners is an example of how we've reinvented a traditional product, one that many users just accepted came with challenges. We found a way to change that."
J.J. Keller offers a flexible and broad portfolio of hazmat placard solutions to help meet DOT placarding requirements.
About J.J. Keller & Associates, Inc.
Serving more than 600,000 customers, including 90 percent of the Fortune 1000® companies, J. J. Keller & Associates, Inc. is the nation's leading provider of regulatory, safety and compliance solutions. Organizations of all sizes rely on our expert insights to help create safe work environments and simplify the complexities of regulatory compliance. Our diversified portfolio, including electronic logging, mobile technologies, online management tools, publications, training, forms, supplies, consulting and professional services, is trusted to safeguard workers, reduce risk and build operational confidence. As a privately held, family-owned company since 1953, we are committed to helping protect lives every day. www.jjkeller.com.
For more information, contact:
Susan Baranczyk, Corporate Communications
J. J. Keller & Associates, Inc.
1-920-680-5797
Email: sbaranczyk@jjkeller.com