Back to Press Releases
FOR IMMEDIATE RELEASE (October 4, 2023)
J. J. Keller Receives Patent for Driving Monitoring and Detection System
Invention Helps Fleets Avoid Unidentified Driving Events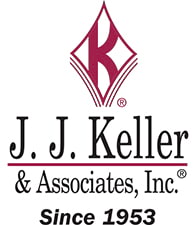 Neenah, WI - J. J. Keller & Associates, Inc.—a leading provider of safety and compliance solutions for the transportation industry, has been granted a new patent by the United States Patent and Trademark Office (USPTO). The patent, titled "Driving Monitoring and Detection System," was filed with the USPTO in October 2020 and granted on September 26, 2023.
The invention aims to address the problem of unidentified driving events when using an electronic logging device (ELD). The J. J. Keller® Encompass® application, available on both Android and iOS platforms, incorporates this driving monitoring and detection system, which leverages the mobile device's GPS module to detect motion when the ELD is disconnected. If the device moves beyond set distance and time thresholds, it triggers a prompt for the user to reconnect the ELD to the Encompass application. Additionally, this information is relayed to the administrative side of the Encompass solution, providing fleet managers with detailed insights into when and how long the application was in motion while disconnected from the ELD.
Roman Bykhovoy, a senior developer with J. J. Keller and an inventor of the driving monitoring and detection system, said, "I am profoundly honored to have contributed to the development of this invention - a tool that will enable motor carriers to adhere to essential regulations, consequently establishing safer highways for everyone on the road. I am sincerely grateful to J. J. Keller for providing me with the opportunity to transform this concept into a functional solution that is now utilized by thousands of drivers."
The patent allows J. J. Keller the exclusive rights to make, sell, or license this invention. This mechanism is crucial in maintaining compliance among drivers. It can assist the carrier's support team in identifying and communicating with drivers who are not complying with regulations.
"We are thrilled to receive this patent and to be able to offer our customers a solution that will help them maintain compliance and keep their drivers safe on the road," said Rustin Keller, president and CEO of J. J. Keller. "We are committed to providing innovative solutions that meet the needs of our customers and help them achieve their safety and compliance goals."
About J. J. Keller & Associates, Inc.
Since we began as a family-owned company in 1953, our purpose at J. J. Keller & Associates, Inc. has been to protect people and the businesses they run. Today, serving 500,000+ companies across North America, our associates are proud to make a larger impact than ever. Organizations of all sizes rely on our expert insights to help create safe work environments and simplify complex government regulations. They trust in our comprehensive portfolio of solutions – including ELogs, dash cams and mobile technology; driver training via online courses, streaming video or DVD; cloud-based management tools; managed services; consulting services; online and print publications; forms, PPE and safety supplies.
Transportation professionals rely on J. J. Keller's experts, products and services to reduce risk, improve regulatory compliance, manage performance, and boost operational efficiency. Learn more at jjkeller.com, and follow us on LinkedIn, X, and Facebook.
For more information, contact: