Back to Press Releases
FOR IMMEDIATE RELEASE (August 15 , 2019)
J.J. Keller Provides Timely Guidance in Response to FMCSA Proposed Hours-of-Service Rule Changes
Upcoming webcast offers fleets opportunity to understand the impact, ask critical questions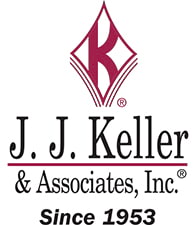 Neenah, WI - J.J. Keller & Associates, Inc. will host an educational webcast to help fleet professionals understand critical aspects of the recently proposed changes to federal hours-of-service regulations. The webcast, Hours-of-Service Proposal: What it Means for You, is scheduled for 1 p.m. CDT, Thursday, August 22, 2019.
The proposed changes outline several significant revisions, including expanding the 100-air-mile exception, extending the 14-hour rule, changing the "adverse driving conditions" provision, removing or changing the 30-minute break requirement, and modifying the split-sleeper-berth rule.
Attendees will have an opportunity to learn which changes are moving forward, which have been cut, and how their operation might be affected as a result. The discussion will also include a timeline for what happens next, information for getting involved in the rulemaking process, and a Q&A session.
"The proposed changes to hours-of-service regulations will inevitably leave many with unanswered questions," said Tom Reader, senior director of marketing at J.J. Keller. "Our subject-matter experts are ready to provide detailed guidance so fleets can make informed decisions going forward."
Fleets can register for the webcast here.
About J. J. Keller & Associates, Inc.
J. J. Keller & Associates, Inc. is the most respected name in safety and regulatory compliance. Since its beginning as a one-man consulting firm in 1953, the company has grown to over 1,400 associates serving more than 600,000 customers — including over 90% of the Fortune 1000® companies. The company's subject-matter expertise spans nearly 1,500 topics, and its diverse solutions include ELogs and mobile technology; training via online courses, streaming video or DVD; online management tools; managed services; consulting services; online and print publications; forms and supplies.
Transportation professionals rely on J. J. Keller's in-house expertise and wide selection of products and services to reduce risk and improve regulatory compliance, performance management, and operational efficiency. For more information, visit www.jjkeller.com.
For more information, contact:
Susan Baranczyk, Corporate Communications
J. J. Keller & Associates, Inc.
1-920-860-5797
Email: sbaranczyk@jjkeller.com