Back to Press Releases
FOR IMMEDIATE RELEASE (June 19, 2018)
J. J. Keller Offers New Service to Protect CSA Scores
DataQs Challenge Service Available for Encompass® and Driver DataSense® Service Customers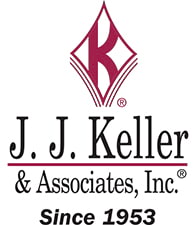 Neenah, WI - As the frequency and severity of Hours of Service (HOS) violations continue to rise, so does the likelihood of CSA scores being impacted erroneously. To help ensure accurate federal and state data is being released to the public via the CSA website, J. J. Keller is offering a complimentary DataQs Challenge Service for their Encompass and Driver DataSense customers.
In the event a customer deems a roadside inspection violation unwarranted, J. J. Keller will help determine if a challenge is appropriate and submit the DataQs request to the FMCSA or state agency on their behalf. In cases where the driver was able to provide the necessary supporting documentation, J. J. Keller has been able to successfully overturn more than 70% of the violations they've disputed including those related to discrepancies over ELD record transfer, inspection report accuracy, proper licensing, and placarding.
"As roadside inspections place increased focus on Hours of Service compliance, we are more committed than ever to helping our customers protect their CSA scores," said Tom Reader, director of ELD marketing at J. J. Keller & Associates, Inc. "We're offering this service at no charge to existing customers, knowing there's more scrutiny with ELDs. Our relationship with governing agencies, combined with our ability to interpret and understand the regulations, makes us uniquely qualified to help customers determine which roadside inspections should be challenged." Customers can learn more about this service by visiting JJKeller.com/DataQs or calling 855.693.5338.
About J. J. Keller & Associates, Inc.
Since its beginning as a one-man consulting firm in 1953, J. J. Keller & Associates, Inc. has grown to become the most respected name in safety and regulatory compliance. Now over 1,400 associates strong, J. J. Keller serves over 600,000 customers — including over 90% of the Fortune 1000® companies. The company's subject-matter expertise spans nearly 1,500 topics, and its diverse solutions include ELogs and mobile technology; training via online courses, streaming video or DVD; online management tools; managed services; consulting services; online and print publications; forms and supplies.
Transportation professionals rely on J. J. Keller's in-house expertise and wide selection of products and services to reduce risk and improve regulatory compliance, performance management, and operational efficiency. For more information, visit JJKeller.com.
For more information, contact: