Back to Press Releases
FOR IMMEDIATE RELEASE (July 9, 2019)
J.J. Keller Offers 2020 Emergency Response Guidebook at 2016 Prices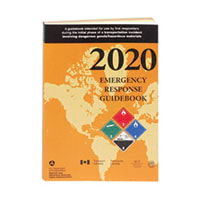 Neenah, WI - Customers can now pre-order the 2020 Emergency Response Guidebook (ERG) at 2016 prices. The 2020 ERG is expected to be available from J.J. Keller in early 2020.
The ERG is the primary source for information needed to respond immediately to a transportation incident involving hazardous materials. Transporters, police, firefighters and other emergency services personnel use the ERG as a quick way to identify the hazardous materials and get response information to protect themselves and the general public.
The 2020 ERG will replace the 2016 edition and will reflect the latest guidelines for proper emergency response to a hazmat incident.
"Nobody wants to experience a hazardous materials incident, but they do happen," said Thomas Ziebell, J.J. Keller® senior hazardous materials transportation editor. "Being prepared is crucial in order to mitigate the dangers and potential damage, and 49 CFR 172.602 requires carriers to carry emergency response information when transporting hazmat. The new 2020 ERG will contain the most current information for identifying the hazardous materials, for guidance on what to do and where to get help in the event of an emergency."
Those reserving the 2020 ERG from J. J. Keller will enjoy low 2016 prices, along with priority processing, as soon as the new ERG is available for shipment.
The 2020 ERG is available in 5 formats. To see descriptions of all the formats, plus quantity pricing, visit JJKeller.com/ERG.
To reserve the 2020 ERG at the 2016 rate, call 800-327-6868 or go online to JJKeller.com/ERG.
For more information about J.J. Keller's full spectrum of safety and compliance solutions, visit JJKeller.com or call 800-327-6868.
About J. J. Keller & Associates, Inc.
J. J. Keller & Associates, Inc. is the most respected name in safety and regulatory compliance. Since its beginning as a one-man consulting firm in 1953, the company has grown to over 1,400 associates serving more than 600,000 customers — including over 90% of the Fortune 1000® companies. The company's subject-matter expertise spans nearly 1,500 topics, and its diverse solutions include ELogs and mobile technology; training via online courses, streaming video or DVD; online management tools; managed services; consulting services; online and print publications; forms and supplies.
Transportation professionals rely on J. J. Keller's in-house expertise and wide selection of products and services to reduce risk and improve regulatory compliance, performance management, and operational efficiency. For more information, visit JJKeller.com.
For more information, contact: