Back to Press Releases
FOR IMMEDIATE RELEASE (May 17, 2017)
J. J. Keller & Associates, Inc. Named an Honorable Mention Special Award Winner in the 2017 SAP HANA® Innovation Awards
The company stood out amongst over 150 entries, as one of the most compelling examples of innovation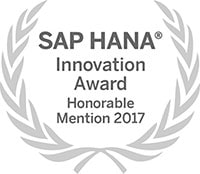 Neenah, WI - J. J. Keller & Associates, Inc. announced that the company received an honorable mention special award in the 2017 SAP HANA Innovation Awards. The award celebrates customers and partners that are using the SAP HANA platform or other SAP Platform and Technology solutions to innovate their businesses.
"We are extremely proud to be recognized by SAP as a leading technology innovator," said Rustin Keller, executive vice president and chief operating officer for J. J. Keller & Associates, Inc. "We continue to invest in technology and resources to deliver new solutions to our customers as well as streamline efficiency in our organization."
Entries were judged and scored based on several factors including: human impact, business or social value created, creativity or complexity of the use case, IT impact, and fit within the entry category.
"J. J. Keller focuses on implementing and leveraging technology to significantly improve how we serve our customers, deliver business results and optimize our associates' work," said Paul Schwartz, vice president of information technology.
Award winners will be honored at an exclusive celebration breakfast on Tuesday, May 16, 2017 at the Hilton Orlando Hotel. This event provides a unique opportunity to network with a community of forward thinking SAP Customers and Partners who are doing exciting things with SAP solutions.
About J. J. Keller & Associates, Inc.
Serving more than 600,000 customers, including 90% of the Fortune 1000® companies, J. J. Keller & Associates, Inc. is the nation's leading provider of regulatory, safety and compliance solutions. Organizations of all sizes rely on our expert insights to help create safe work environments and simplify the complexities of regulatory compliance. Our diversified portfolio of solutions and services including online management tools, publications, training, forms, supplies, consulting and professional services is trusted to safeguard workers, reduce risk and build operational confidence. As a privately-held, family-owned company since 1953, we are committed to helping protect lives every day. JJKeller.com.
For more information, contact:
Mary Borsecnik
Corporate Marketing Communications Specialist
J. J. Keller & Associates, Inc.
1-800-843-3174, ext. 7050
Email: mborsecnik@jjkeller.com