Back to Press Releases
FOR IMMEDIATE RELEASE (November 1, 2023)
J. J. Keller & Associates, Inc. Marks 70 Years in Business
J. J. Keller's Safety & Regulatory Compliance Solutions Have Expanded Through Three Generations of Leadership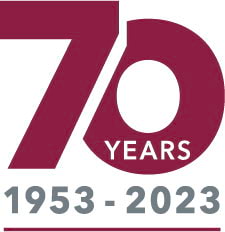 Neenah, WI - J. J. Keller & Associates, Inc., a most trusted name in safety and regulatory compliance solutions across North America, is celebrating 70 years in business today.
Founded on November 1, 1953, by World War II Veteran John J. (Jack) Keller, J. J. Keller & Associates, Inc. started as a one-man consulting firm specializing in transportation regulations for motor carriers. Over the years, the company has grown exponentially, expanding its expertise and solutions to address regulatory complexities for a wide range of industries.
Rustin Keller, the third-generation leader and current President and CEO of the company, reflected on the company's humble beginnings.
"My grandfather's vision was to assist motor carriers in navigating the complex regulations associated with an emerging intrastate trucking industry in 1953," he said. "His dedication and experience in transportation for Wisconsin paper companies laid the foundation for what J. J. Keller has become today."
With over 2,000 associates across the United States, Canada and Mexico, and a dedicated Center of Excellence in India, J. J. Keller has become a comprehensive provider of safety and compliance solutions. Its offerings include consulting and training services, managed services, content subscriptions, cloud-based solutions, and a wide range of physical products. These solutions help employers ensure the safety of their employees and mitigate the risk of noncompliance with various regulatory bodies such as the Department of Transportation, Department of Labor, EEOC, OSHA and EPA.
On J. J. Keller's anniversary, Rustin Keller acknowledged the advancements made since the company's inception. "The wide range of expertise and technology-based solutions we offer today would likely have surpassed even my grandfather's entrepreneurial imagination," he said. "However, what I believe he would easily recognize is our commitment to carrying forward his legacy of protecting people and the businesses they run."
A 7-Time Great Place to Work
The company's anniversary coincides with November 1 being Great Place to Work® Certification Nation Day, a day on which Great Place to Work® honors and acknowledges Great Place to Work-Certified™ companies across the country, which create great places to work for all. Great Place To Work® is the global authority on workplace culture, recognized worldwide by employees and employers alike for identifying outstanding employee experiences.
"Our associates have ranked J. J. Keller as a Great Place to Work seven times," said Rustin Keller. "It's an honor bestowed on us by our associates, and it shows our true care for associates – something our founder, Jack Keller, instilled when he put 'Associates' in the company name."
New J. J. Keller History eBook
To commemorate the significant milestone of 70 years in business, J. J. Keller has released a new eBook that provides a look into the company's history. The eBook provides an overview of the company's journey, highlighting achievements, milestones and the values that have guided it for the past seven decades.
For more information about J. J. Keller's 70th anniversary and to access the commemorative ebook, please visit here.
About J. J. Keller & Associates, Inc.
Since we began as a family-owned company in 1953, our purpose at J. J. Keller & Associates, Inc. has been to protect people and the businesses they run. Today, serving 500,000+ companies across North America, our associates are making a larger impact than ever. Transportation, construction, utility, healthcare, education and industrial organizations of all sizes rely on our expert insights to create safe work environments and simplify complex government regulations. They trust our diversified portfolio of solutions – cloud-based management tools, consulting, professional services, training, forms, PPE and safety supplies – to safeguard workers, reduce risk and build operational confidence. www.jjkeller.com jjkeller.com.
For more information, contact: