Back to Press Releases
FOR IMMEDIATE RELEASE (November 7, 2022)
J. J. Keller Launches Best-in-Class Online Content Platform for Safety & Compliance Professionals
The J. J. Keller® Compliance Network offers expert-curated resources that transform how businesses maintain regulatory compliance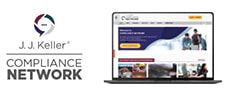 Neenah, WI - A leader in safety and compliance since 1953, J. J. Keller & Associates, Inc. is excited to offer a new way for industry professionals to access and engage with its regulatory knowledge and expertise.
The J. J. Keller® Compliance Network is an online solution that delivers best-in-class content, tools, and resources custom-tailored to the safety and regulatory needs of businesses in the workplace safety, transportation, environmental, human resources, and other industries.
While visitors to the Compliance Network website can try a number of features for free, those who purchase a Professional Membership will receive full access to everything the platform offers, including:
Regulatory News: View current top stories, industry highlights, and regulatory developments affecting your organization.
Compliance Resources: Look up word-for-word regulations and get easy-to-understand explanations from J. J. Keller Experts.
Institute for Learning & Professional Development: Gain foundational knowledge on 120+ compliance topics with articles, videos, and practical exercises that test your understanding in real-world scenarios.
Discussion Forums: Connect with fellow compliance professionals from across the country in member-only forums.
Expert Help: Ask questions, schedule one-on-one consultations, and submit in-depth research requests to J. J. Keller's accomplished specialists.
And More
By personalizing their profile with key information like professional focus, roles and responsibilities, and area(s) of operation, members ensure the content they see is as relevant and helpful as possible. They can also upgrade their membership to receive premium content offering guidance for hazmat and environmental fields.
Equal parts news source, content library, expert communication hub, and professional community, Compliance Network is like having a personal compliance consultant on hand to offer guidance when needed.
J. J. Keller President and CEO Rustin R. Keller believes the platform's authoritative content and versatility make it an invaluable resource for today's safety and compliance professional, especially in navigating an environment where standards and regulations change suddenly.
"Compliance Network is a platform for safety and compliance leaders to have greater confidence in making intelligent, accurate decisions quickly," says Keller. "With regulations and best practices evolving all the time, it's important to have a resource to rely on for peer networking, expert advice, and strong content."
He is particularly enthusiastic that the new solution provides even more avenues for compliance professionals to engage with the company's renowned team of regulatory experts, well beyond what had been offered by previous products.
"The ability to schedule a live consult with our experts is unique and very exciting," Keller says. "So is the ability to request a research project from our staff. Both of these are more in-depth and tailored to customers' specific applications than anything we've done in the past. I'm looking forward to seeing these in action!"
The J. J. Keller® Compliance Network is now available. Learn more and begin building your profile at JJKellerComplianceNetwork.com, or call 800-327-6868.
About J. J. Keller & Associates, Inc.
Since we began as a family-owned company in 1953, our purpose at J. J. Keller & Associates, Inc. has been to protect people and the businesses they run. Today, serving 500,000+ companies across North America, our associates are proud to make a larger impact than ever. Transportation, construction, and industrial organizations of all sizes rely on our expert insights to create safe work environments and simplify complex government regulations. They trust our diversified portfolio of solutions – cloud-based management tools, consulting, professional services, training, forms, PPE, and safety supplies – to safeguard workers, reduce risk, and build operational confidence. www.jjkeller.com
For more information, contact: