Back to Press Releases
FOR IMMEDIATE RELEASE (July 19, 2022)
J. J. Keller Joins the Next Generation in Trucking Association as an Allied Member
J. J. Keller resources will help build a pipeline of future truck drivers amid the current driver shortage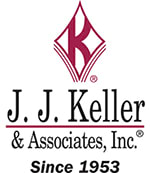 Neenah, WI - North America's leader in safety and compliance solutions for the transportation industry, has joined the Next Generation in Trucking Association. Next Generation in Trucking is a nonprofit organization promoting trucking as a positive career field and connecting young people to opportunities in transportation education.
"J. J. Keller has been serving the transportation industry since 1953," said Rustin Keller, President & CEO of J. J. Keller. "Respect for the driving professional runs deep among our associates. This respect is part of our company culture. If we can help address the driver shortage and share with younger generations the importance of truck driving as a career choice for the world today, we're honored to commit resources to doing so."
J. J. Keller will help the association inspire high school students to consider a career in trucking. The company will do this by offering a Next Generation in Trucking High School Program to educators through the association. Developed in collaboration with a leading high school educator on transportation careers, this discounted package of best-selling J. J. Keller resources will provide hands-on insight into truck drivers' daily activities. It will also explain how to meet educational and training requirements to become a driver and emphasize the importance of safety and compliance with transportation regulations.
"We are excited to partner with J. J. Keller," said Lindsey Trent, President & Co-Founder of the Next Generation in Trucking Association. "College enrollment has seen its biggest decline in 50 years, and we see the need to engage with secondary education and steer Gen Z towards careers in trucking. With an aging workforce and a shift towards the skilled trades, we feel like the time is ripe for our mission. We hope the industry will support us in this endeavor."
Founded in 2021, the Next Generation in Trucking Association is led by volunteer industry professionals and members including students, teachers, schools, trucking professionals, industry carriers, dealers and allied sponsors working together to carve out pathways for young individuals to start careers in the trucking industry.
About J. J. Keller & Associates, Inc.
Since we began as a family-owned company in 1953, our purpose at J. J. Keller & Associates, Inc. has been to protect people and the businesses they run. Today, serving 500,000+ companies across North America, our associates are proud to make a larger impact than ever. Organizations of all sizes rely on our expert insights to help create safe work environments and simplify complex government regulations. They trust in our comprehensive portfolio of solutions – including ELogs, dash cams and mobile technology; driver training via online courses, streaming video or DVD; cloud-based management tools; managed services; consulting services; online and print publications; forms, PPE and safety supplies.
Transportation professionals rely on J. J. Keller's experts, products and services to reduce risk, improve regulatory compliance, manage performance, and boost operational efficiency. For more information, visit JJKeller.com.
About The Next Generation in Trucking Association
The Next Gen Trucking Association is a membership-based advocacy group solely dedicated to advancing the trucking industry as a career choice for the next generation through nationwide education and awareness initiatives. As a leading national nonprofit trade association, Next Gen Trucking Association (NGT) inspires, educates, and provides resources for young people and promotes opportunities within the trucking industry. For more information, contact Lindsey Trent at lindsey@nextgentrucking.org
For more information, contact:
Susan Baranczyk
J. J. Keller & Associates, Inc.
1-920-722-7391
Email: sbaranczyk@jjkeller.com