Back to Press Releases
FOR IMMEDIATE RELEASE (August 14, 2019)
J.J. Keller Is First Wisconsin Company to Achieve ISO 45001:2018 Certification
Leader in Safety & Compliance Meets Highest International Standards for Protecting Employees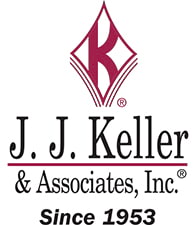 Neenah, WI - J.J. Keller & Associates, Inc., the nation's leading provider of safety and regulatory compliance solutions, announced today that it has achieved ISO 45001.2018 certification. ISO 45001 is the international standard outlining best practices for Occupational Health and Safety Management Systems. J. J. Keller is the first company in Wisconsin to be ISO 45001:2018 certified and the 17th company in the nation to attain this certification by DQS, Inc. since the ISO 45001 standard was introduced in 2018.
J.J. Keller underwent in-depth audits by third-party certifier DQS, Inc. to confirm adherence throughout the company's health and safety activities and supporting processes associated with providing commercial safety and compliance services.
"As experts in safety, we're dedicated to helping our customers keep their employees and workplace safe," said Rustin Keller, president and CEO of J.J. Keller. "So it was a natural fit for us to pursue ISO 45001 certification as soon as it became available. We want to be role models for preventing workplace accidents and providing a healthy work environment."
J.J. Keller is also certified to the ISO 14001:2015 standard for Environmental Management Systems and ISO 27001:2013 standard for Information Management Security Systems.
About J. J. Keller & Associates, Inc.
Serving more than 600,000 customers, including 90 percent of the Fortune 1000® companies, J. J. Keller & Associates, Inc. is the nation's leading provider of regulatory, safety and compliance solutions. Organizations of all sizes rely on our expert insights to help create safe work environments and simplify the complexities of regulatory compliance. Our diversified portfolio, including electronic logging, mobile technologies, online management tools, publications, training, forms, supplies, consulting and professional services, is trusted to safeguard workers, reduce risk and build operational confidence. As a privately held, family-owned company since 1953, we are committed to helping protect lives every day. www.jjkeller.com.
For more information, contact:
Susan Baranczyk, Corporate Communications
J. J. Keller & Associates, Inc.
1-920-860-5797
Email: sbaranczyk@jjkeller.com