Back to Press Releases
FOR IMMEDIATE RELEASE (February 9, 2017)
J. J. Keller & Associates, Inc. Introduces Transportation Safety Management Resource
Guidance on Maintaining a Safe, Efficient, Compliant Fleet Operation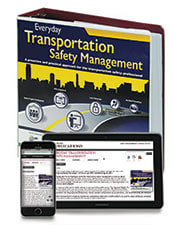 Neenah, WI - J. J. Keller & Associates, Inc., the nation's leading provider of safety and regulatory compliance solutions, has introduced Everyday Transportation Safety Management: A Proactive and Practical Approach for the Transportation Safety Professional.
The publication serves as a single source to help transportation safety professionals comply with complex and ever-changing DOT regulations, foster a safety culture, and protect a company's bottom line. It includes callouts to draw attention to critical aspects of the regulations, as well as best practices and actionable content for structuring and maintaining transportation safety programs.
The major topics in Everyday Transportation Safety Management reflect common challenges in maintaining a safe, efficient, compliant operation: safety responsibilities, safety compliance management, maintaining a safety fitness rating, risk management and loss prevention, and safety training. It also addresses employee retention and involvement.
"This valuable resource will help novice and seasoned safety professionals alike navigate their safety journey," said Mark Schedler, senior transportation editor for J. J. Keller & Associates, Inc. "It takes the approach that safety is always a work in progress, with many barriers to be addressed."
Everyday Transportation Safety Management is also available in an online edition that provides access to the content from anywhere, using a web browser and mobile device. An update service is available to ensure that transportation safety professionals can stay current with any changes to DOT regulations.
About J. J. Keller & Associates, Inc.
Since its beginning as a one-man consulting firm in 1953, J. J. Keller & Associates, Inc. has grown to become the most respected name in safety and regulatory compliance. Now over 1,400 associates strong, J. J. Keller serves over 600,000 customers — including over 90% of the Fortune 1000® companies. The company's subject-matter expertise spans nearly 1,500 topics, and its diverse solutions include ELogs and mobile technology; training via online courses, streaming video or DVD; online management tools; managed services; consulting services; online and print publications; forms and supplies.
Transportation professionals rely on J. J. Keller's in-house expertise and wide selection of products and services to reduce risk and improve regulatory compliance, performance management, and operational efficiency. For more information, visit JJKeller.com.
For more information, contact:
Mary Borsecnik
Corporate Marketing Communications Specialist
J. J. Keller & Associates, Inc.
1-800-843-3174, ext. 7050
Email: mborsecnik@jjkeller.com