Back to Press Releases
FOR IMMEDIATE RELEASE (November 21, 2018)
J.J. Keller Hosts Panel of Industry Experts to Help Fleets Prepare for 2019 Hours-of-Service Compliance Deadline
Webcast recorded November 14 offers firsthand knowledge from industry safety and enforcement personnel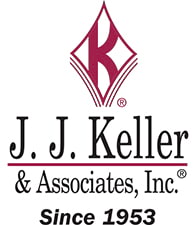 Neenah, WI - The 2019 hours-of-service compliance deadline requires that fleets currently using automatic onboard recording devices (AOBRDs) change over to using only compliant electronic logging devices (ELDs) – a transition far more complex and time-consuming than most realize.
As part of an ongoing commitment to provide fleets with critical regulatory guidance and expertise needed to remain compliant, J.J. Keller & Associates, Inc. hosted Compliance and Enforcement: A Panel Discussion on Hours-Of-Service Strategies for 2019. For this webcast, J.J. Keller's subject matter experts were joined by Wisconsin State Patrol Master Inspector Mark Barlar, FMCSA Safety Investigator Chris Wileman, and representatives from Cardinal Glass David Erickson and Jeff Murphy who were able to offer invaluable advice to listeners as a result of having already completed the transition.
"None of this is easy," said David Erickson, company administrator at Cardinal Glass. "It's a big transition for the drivers and organization. We didn't want a forced conversion – we wanted to complete it in a planned way."
In addition to the firsthand experiences shared, J.J. Keller in-house experts and those from the field offered best practices for helping fleets prepare and plan accordingly for the challenges they'll face while completing final ELD mandate compliance measures. Guidance included the importance of becoming familiar with different technical specifications for each device, validating the type of device they're using, as well as current and forecasted regulatory enforcement procedures.
"There is a lot involved with the next electronic logging compliance deadline," said Tom Bray, transportation consultant at J.J. Keller & Associates, Inc. "No matter what type of device you are using, this change will impact all areas of your company. You need to have a disciplined approach that includes planning, preparation, execution and evaluation."
For additional guidance on managing the final stages of your electronic logging transition, preorder your copy of J.J. Keller's 2019 Hours-of-Service Blueprint: Your Strategy for Meeting the Final ELog Deadline. This guide will help you determine if your devices are fully compliant, complete proper training, and perform the necessary follow-up to ensure your operation is meeting all hours-of-service requirements by the December 16, 2019 deadline.
View a recording of the webcast.
About J.J. Keller & Associates, Inc.
Since its beginning as a one-man consulting firm in 1953, J.J. Keller & Associates, Inc. has grown to become the most respected name in safety and regulatory compliance. Now over 1,400 associates strong, J. J. Keller serves over 600,000 customers — including over 90% of the Fortune 1000® companies. The company's subject-matter expertise spans nearly 1,500 topics, and its diverse solutions include ELogs and mobile technology; training via online courses, streaming video or DVD; online management tools; managed services; consulting services; online and print publications; forms and supplies.
Transportation professionals rely on J. J. Keller's in-house expertise and wide selection of products and services to reduce risk and improve regulatory compliance, performance management, and operational efficiency. For more information, visit www.jjkeller.com.
For more information, contact: