Back to Press Releases
FOR IMMEDIATE RELEASE (May 3, 2017)
J. J. Keller & Associates, Inc. Hosts Annual Educational Event for Area Students
Take Your Child to Work Day encourages creativity and career building among participants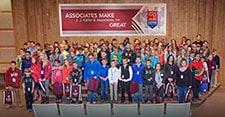 Neenah, WI - J. J. Keller & Associates, Inc. hosted nearly 100 students, ages eight to twelve years, for their annual Take Your Child to Work Day event on April 27, 2017.
The half-day program included a welcome ceremony, interactive presentation and student participation in multiple hands-on creative learning activities focused on safety, online training, sales and product development. Each activity provided children the opportunity to engage as a team and learn more about the solutions and services offered by J. J. Keller & Associates, Inc.
"We're committed to exposing and educating students on the wide-variety of career opportunities that are available," said Rustin Keller, executive vice president and chief operating officer for J. J. Keller & Associates, Inc. "As a result of their participation, children, stepchildren and grandchildren of our associates grow to appreciate not only the hard work of their parent or mentor, but the importance of education and goal setting in their own future success."
J. J. Keller has hosted the annual event since 2005 in conjunction with the nationally celebrated "Take Our Daughters and Sons to Work Day" as a way to encourage students to invest in their future and embrace opportunities for potential educational and career development.
"The program was engaging and educational, with hands-on workshops that not only showcased the products and services we offer but demonstrated why safety and compliance is important," said Janal Emmer, J. J. Keller associate and parent of participating student. "I think this day will be long remembered by those who attended."
About J. J. Keller & Associates, Inc.
Serving more than 600,000 customers, including 90% of the Fortune 1000® companies, J. J. Keller & Associates, Inc. is the nation's leading provider of regulatory, safety and compliance solutions. Organizations of all sizes rely on our expert insights to help create safe work environments and simplify the complexities of regulatory compliance. Our diversified portfolio of solutions and services including online management tools, publications, training, forms, supplies, consulting and professional services is trusted to safeguard workers, reduce risk and build operational confidence. As a privately-held, family-owned company since 1953, we are committed to helping protect lives every day. JJKeller.com.
For more information, contact:
Mary Borsecnik
Corporate Marketing Communications Specialist
J. J. Keller & Associates, Inc.
1-800-843-3174, ext. 7050
Email: mborsecnik@jjkeller.com