Back to Press Releases
FOR IMMEDIATE RELEASE (March 19, 2019)
J.J. Keller Helps Fleets Ensure Full Compliance by December 16 ELD Deadline
FREE Guide Maps Out Comprehensive AOBRD to ELD Transition Plan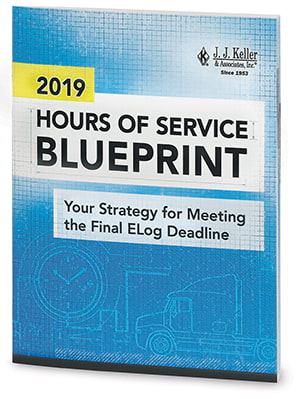 Neenah, WI - With less than nine months to go until the final ELD compliance date, over 60% of logging devices still in use are only AOBRD-compliant, meaning a significant percentage of carriers have yet to complete the transition to ELDs.
In addition to giving fleets the chance to complete a one-on-one ELD compliance check with one of their compliance specialists, J.J. Keller & Associates, Inc. is offering a FREE guide to assist fleets through each phase of the transition. Over a thousand copies of the 2019 Hours of Service Blueprint have already been sent out, providing fleets with critical information for navigating complex ELD requirements and validating device compliance, as well as helping them reach compliance with minimal stress and as little driver turnover as possible.
"Helping fleets comply with the ELD mandate has been a central focus of ours for the past few years," said Tom Reader, senior director of marketing at J.J. Keller & Associates, Inc. "With the final deadline approaching, we've organized our expertise into a step-by-step guide to ensure fleets who have yet to make the move from AOBRDs to ELDs are able to do so according to a reasonable timeline and with minimal challenges."
Using quizzes, checklists, FAQs and other interactive tools, the guide covers each phase of the transition to ELDs, from completing training to understanding back-office and driver responsibilities, effectively auditing electronic logs, updating hours-of-service policies and procedures, and handling roadside inspections. Fleets can request their free copy at JJKeller.com/HOSBlueprint.
About J.J. Keller & Associates, Inc.
J. J. Keller & Associates, Inc. is the most respected name in safety and regulatory compliance. Since its beginning as a one-man consulting firm in 1953, the company has grown to over 1,400 associates serving more than 600,000 customers — including over 90% of the Fortune 1000® companies. The company's subject-matter expertise spans nearly 1,500 topics, and its diverse solutions include ELogs and mobile technology; training via online courses, streaming video or DVD; online management tools; managed services; consulting services; online and print publications; forms and supplies.
Transportation professionals rely on J. J. Keller's in-house expertise and wide selection of products and services to reduce risk and improve regulatory compliance, performance management, and operational efficiency. For more information, visit jjkeller.com www.jjkeller.com.
For more information, contact:
Susan Baranczyk, Corporate Communications
J. J. Keller & Associates, Inc.
1-920-680-5797
Email: sbaranczyk@jjkeller.com