Back to Press Releases
FOR IMMEDIATE RELEASE (January 5, 2017)
J. J. Keller & Associates, Inc. Helps Companies Achieve Fewer Injuries, Lower Costs
New Training Program Focuses on Reducing CMV Injuries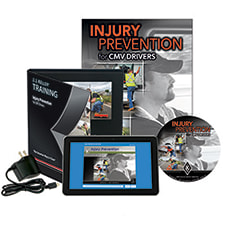 Neenah, WI - J. J. Keller & Associates, Inc. has introduced the Injury Prevention for CMV Drivers training program to help transportation companies reverse the growing trend of costly, non-fatal injuries sustained by professional truck drivers.
Delivered by real-world safety professionals and J. J. Keller® subject-matter experts, this training program helps drivers adopt safe work practices and prevent injury while performing routine, non-driving tasks such as mounting and dismounting a tractor trailer, loading and unloading cargo, using landing gear and pulling releases, and protecting against extreme weather conditions. Drivers will also learn to mitigate the impacts of whole body vibration by maintaining the proper seated position while driving.
"Driver injuries can cost companies thousands in compensation claims, insurance premiums, and lost workdays — not to mention the loss of drivers in a time when qualified drivers are hard to find," said Tom Bray, lead transportation editor. "This training helps drivers of all experience levels put the appropriate injury-prevention techniques in place, and ultimately, protect the company's bottom line."
Injury Prevention for CMV Drivers is available in DVD, Pay Per View, Online Course, and Video Training Book formats. The DVD program includes a Trainer Guide, Trainer Tools CD, Driver Skill Cards, and an Awareness Poster. Select formats also include a Message to Management video containing valuable information about the business implications of driver injuries. Two additional titles, Injury Prevention Around Flatbeds and Injury Prevention Around Tankers are included with most formats or available as separate online courses.
About J. J. Keller & Associates, Inc.
Since its beginning as a one-man consulting firm in 1953, J. J. Keller & Associates, Inc. has grown to become the most respected name in safety and regulatory compliance. Now over 1,400 associates strong, J. J. Keller serves over 560,000 customers — including over 90% of the Fortune 1000® companies. The company's subject-matter expertise spans nearly 1,500 topics, and its diverse solutions include ELogs and mobile technology; training via online courses, streaming video or DVD; online management tools; managed services; consulting services; online and print publications; forms and supplies.
Transportation professionals rely on J. J. Keller's in-house expertise and wide selection of products and services to reduce risk and improve regulatory compliance, performance management, and operational efficiency. For more information, visit www.jjkeller.com.
For more information, contact:
Mary Borsecnik
Corporate Marketing Communications Specialist
J. J. Keller & Associates, Inc.
1-800-843-3174, ext. 7050
Email: mborsecnik@jjkeller.com