Back to Press Releases
FOR IMMEDIATE RELEASE (February 7, 2022)
J. J. Keller Helps Carriers Comply with Entry-Level Driver Training Rule Now in Effect
Offers Carriers ELDT Trainer Certification, Program Assessment and Training Curriculum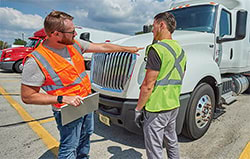 Neenah, WI - The Federal Motor Carrier Safety Administration's (FMCSA) new Entry-Level Driver Training (ELDT) rule went into effect today, meaning drivers can no longer take their CDL test until they complete a specific ELDT curriculum provided by a school or other entity listed on FMCSA's Training Provider Registry (TPR).
"For carriers that train their own drivers, this means they now need to have their entire ELDT program in place, in addition to having their application approved to be on the TPR," said Steve Murray, vice president of content & consulting services at J. J. Keller & Associates, Inc. "For many carriers, however, this significant change is taking longer than expected. In addition to implementing the ELDT theory and behind-the-wheel instruction, they also have to prepare their trainers to deliver this training to drivers."
To help carriers meet the ELDT requirements, or to verify their current program is in compliance, J. J. Keller has developed a number of services.
J. J. Keller's ELDT Trainer Certification Program teaches a carrier's trainers how to train entry-level drivers according to the new rule. A J. J. Keller instructor will educate the trainers on how to effectively deliver both the theory and the behind-the-wheel aspects of entry-level driver training. For carriers that want to use their own theory curriculum, J. J. Keller also offers an ELDT Range & Road Trainer Certification Program focused on teaching trainers to conduct the behind-the-wheel training.
According to Murray, "We recently heard from a client that trained three new drivers after their trainers went through our ELDT Trainer Certification Program and all three drivers passed their State CDL Skills Test on the first try. In fact, the state examiners commented that they had not seen a group of better prepared drivers!"
J. J. Keller's ELDT Training Program Assessment will review the ELDT program a carrier already has in place to verify that it meets or exceeds the FMCSA's ELDT requirements. This includes an assessment of their facilities, vehicles, trainers, certifications, documentation, recordkeeping, training curriculum and more.
These services also include assistance with getting registered on the TPR.
In addition, J. J. Keller offers an ELDT Curriculum, which is a fully prepared training program, including driver and trainer textbooks, online training courses, instructions for range and road exercises and proof of certification.
"With the ELDT rule now in effect, making sure your new driver training program is in place and in compliance is a top priority." Murray added. "The next step is to develop it into a top-tier driver training program that produces top-tier new drivers for your company."
For more information about J. J. Keller's ELDT services, visit JJKellerSafeandSmart.com/ELDT or call 833-982-1236.
About J. J. Keller & Associates, Inc.
Since we began as a family-owned company in 1953, our purpose at J. J. Keller & Associates, Inc. has been to protect people and the businesses they run. Today, serving 500,000+ companies across North America, our associates are proud to make a larger impact than ever. Organizations of all sizes rely on our expert insights to help create safe work environments and simplify complex government regulations. They trust in our comprehensive portfolio of solutions – including ELogs, dash cams and mobile technology; driver training via online courses, streaming video or DVD; cloud-based management tools; managed services; consulting services; online and print publications; forms, PPE and safety supplies.
Transportation professionals rely on J. J. Keller's experts, products and services to reduce risk, improve regulatory compliance, manage performance, and boost operational efficiency. For more information, visit JJKeller.com
For more information, contact: