Back to Press Releases
FOR IMMEDIATE RELEASE (December 13, 2017)
J. J. Keller Fully Prepared to Help Fleets Meet Impending ELD Mandate Deadline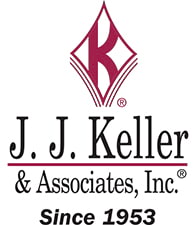 Neenah, WI - With the December 18 ELD mandate deadline only days away, extensive preparation by J. J. Keller & Associates Inc. to help fleets comply is paying off for many in the industry.
"We've spent years getting ready to assist fleets with this regulatory change, including planning ahead with the manufacturing of our ELDs to make sure we have enough inventory to serve the surge of fleets now making the switch," said Tom Reader, director of ELD marketing at J. J. Keller & Associates, Inc. "As the compliance specialists since 1953, our mission is to make sure companies have the tools they need to more easily satisfy the regulations."
In addition to ensuring adequate ELD inventory, J. J. Keller is helping fleets now starting their transition to ELDs by expanding the hours its ELD sales representatives are available. Through December 18, ELD sales hours will be Monday-Sunday, 6 a.m to 9 p.m. CST. The company is also offering expedited shipping of its ELDs with no contract required.
J. J. Keller's FMCSA-registered ELDs are part of the J. J. Keller® Encompass® Fleet Management System, which also includes the J. J. Keller Mobile® logging app that works with most smart devices, and the cloud-based Encompass® back office. Options range from ELogs only to full compliance and performance management tools.
For additional information about the J. J. Keller® Encompass® System, contact a J. J. Keller® ELD Specialist at 855-693-5338 or visit JJKeller.com/ELogs.
About J. J. Keller & Associates, Inc.
Since its beginning as a one-man consulting firm in 1953, J. J. Keller & Associates, Inc. has grown to become the most respected name in safety and regulatory compliance. Now over 1,400 associates strong, J. J. Keller serves over 600,000 customers — including over 90% of the Fortune 1000® companies. The company's subject-matter expertise spans nearly 1,500 topics, and its diverse solutions include ELogs and mobile technology; training via online courses, streaming video or DVD; online management tools; managed services; consulting services; online and print publications; forms and supplies.
Transportation professionals rely on J. J. Keller's in-house expertise and wide selection of products and services to reduce risk and improve regulatory compliance, performance management, and operational efficiency. For more information, visit JJKeller.com.
For more information, contact:
Mary Borsecnik
Corporate Marketing Communications Specialist
J. J. Keller & Associates, Inc.
1-800-843-3174, ext. 7050
Email: mborsecnik@jjkeller.com