Back to Press Releases
FOR IMMEDIATE RELEASE (September 12, 2019)
J.J. Keller's Free Educational Events Help Companies Improve Safety & Compliance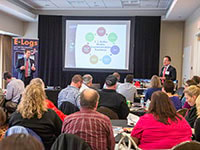 Neenah, WI - As companies continue their ongoing efforts to improve employee safety and compliance with government regulations, many have turned to the free educational events hosted by J.J. Keller & Associates, Inc. for assistance.
"During the first three quarters of 2019, we've hosted nearly 80 events," said Tom Reader, senior director of marketing at J.J. Keller. "And during the fourth quarter of this year we have another 23 events planned."
Hosted by J.J. Keller's regulatory experts, each event focuses on a specific regulatory area, ranging from DOT to OSHA and EPA regulations and related best practices that help reduce the risk of accidents, violations, audits and litigation. The events take place at venues across the country and are free to attendees.
"The professionals who attend our events are really interested in better understanding the regulations and proactively improving their safety and compliance programs in ways that benefit their companies," added Reader. "These in-depth, interactive events are the perfect opportunity to help them accomplish that."
For a full schedule of J.J. Keller's free events, or to register, jjkeller.com/events.
About J. J. Keller & Associates, Inc.
J. J. Keller & Associates, Inc. is the most respected name in safety and regulatory compliance. Since its beginning as a one-man consulting firm in 1953, the company has grown to over 1,400 associates serving more than 600,000 customers — including over 90% of the Fortune 1000® companies. With subject-matter expertise spanning a multitude of industries and regulatory agencies, the company offers consulting and managed services for fleet and transportation, workplace safety and environmental, and human resources. In addition to these professional services, J. J. Keller also offers electronic logging devices, training, online management tools, publications, and forms and supplies. For more information on how to reduce risk and improve regulatory compliance, visit JJKeller.com
For more information, contact: