Press Room
News Releases
FOR IMMEDIATE RELEASE (October 20, 2015)
J. J. Keller Foundation Trucking Education Grant Given In Conjunction With The ATA President's 14th Annual TAEC Leadership Award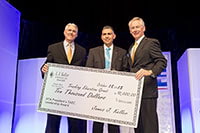 Neenah, WI – Passionate, professional and knowledgeable are just a few words used to describe John Esparza, President and CEO of the Texas Trucking Association and recipient of the ATA President's 14th Annual Trucking Association Executives Council (TAEC) Leadership Award.
The award recognizes the State Trucking Association executive for outstanding leadership, commitment and achievement in advancing the trucking federation. It includes a $10,000 Trucking Education Grant from the J. J. Keller Foundation, Inc., given to a non-profit education or research organization of the winner's choosing, for the advancement of safety in the trucking industry. To date, the J. J. Keller Foundation Trucking Education Grant has awarded $140,000 to fund transportation safety research and provided scholarships to non-profit educational institutions for driving, transportation, and transportation safety programs.
"J. J. Keller's continued mission has been to provide regulatory guidance and education that ultimately makes for safer drivers," said Thomas Reader, J. J. Keller director of marketing. "We are privileged to support the leadership award and the ongoing efforts of this year's and past winners to advocate that safety message."
Kevin Burch, second vice chairman of ATA, presented the TAEC Leadership Award to Esparza on Sunday, October 18, at the 2015 ATA Management Conference & Exhibition in Philadelphia, Penn.
"The TAEC Annual Leadership award not only recognizes a leader, but it also creates a lasting legacy for that state executive and for the industry," said Burch. "John Esparza has been the Texas state executive since August 2006 and has been a strong supporter of ATA and the industry. From hosting the ATA show trucks at their Trucking Day at the State Capitol, to bringing a delegation annually to call on Washington, to hitting the airwaves to defend trucking's priorities, he never shies away from stepping up to the plate."
About J. J. Keller
Since its beginning as a one-man consulting firm in 1953, J. J. Keller & Associates, Inc. has grown to become the most respected name in safety and regulatory compliance. Now over 1,400 associates strong, J. J. Keller serves over 420,000 customers — including over 90% of the Fortune 1000® companies. The company's subject-matter expertise spans nearly 1,500 topics, and its diverse solutions include E-Logs and mobile technology; training via online courses, streaming video or DVD; online management tools; managed services; consulting services; online and print publications; forms and supplies.
Transportation professionals rely on J. J. Keller® in-house expertise and wide selection of products and services to reduce risk and improve regulatory compliance, performance management and operational efficiency. For more information, visit JJKeller.com.
For more information, contact:
Mary Borsecnik
Corporate Marketing Communications Specialist
J. J. Keller & Associates, Inc.
1-800-843-3174, ext. 7050
Email: mborsecnik@jjkeller.com