Back to Press Releases
FOR IMMEDIATE RELEASE (December 15, 2021)
J. J. Keller Foundation celebrates 30 years and crosses the $70 million milestone of giving
Milestone reached with grants to support mentoring for most vulnerable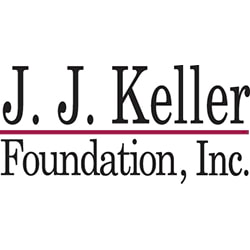 Neenah, WI - The philanthropic spirit of the late John J. & Ethel D. Keller has had wide-ranging impact throughout the greater Fox Valley region. The couple began their family's legacy of giving with a $20 grant to the American Cancer Society in 1991. Today, the J. J. Keller Foundation, which they began, celebrates 30 years with three grants totaling $200,000 to honor the organization's past, present and future while supporting the most vulnerable in our region.
There has never been a more critical time for philanthropy to respond to the community's needs.
"In the recovery from COVID-19, we see a growing need to support individuals with more than traditional basic needs. We want to emphasize building connections and encouraging individuals in our community to volunteer, to help others with their time and talents," stated Heidi Dusek, executive director of the J. J. Keller Foundation. "Many nonprofit organizations have not seen volunteerism return to pre-COVID levels, which are critical to the overall health and well-being of the organizations."
The J. J. Keller Foundation board announced three grants to three different organizations throughout Northeast Wisconsin to honor the 30th anniversary and a milestone of $70 million in giving, and to propel the organization to the $100 million giving mark.
Grants were awarded as follows:
Winnebago County Literacy Council: $30,000 Grant
"The work of the Winnebago County Literacy Council is critical in assisting low-level readers from all walks of life in removing barriers they face because of their reading level," said Robert (Bob) Keller, president of the J. J. Keller Foundation board.
The $30,000 grant to support the organization's Road to Work program will assist the Winnebago County Literacy Council in addressing one of the root causes of poverty – access to appropriate educational opportunities and building relationships with tutors who want to see individuals succeed.
Transitions to Success: $70,000 Grant
A $70,000 grant was awarded to the Transitions to Success program to support youth who are transitioning out of foster care to independent living in the Green Bay area. The six-organization collaborative including Bay Area Workforce Development Board, Foundations Health & Wholeness, Big Brothers Big Sisters, Brown County Health & Human Services, CASA Brown County, Journey to Adult Success (JAS), and Advocates for Healthy Living Transition was initially funded through the Basic Needs Giving Partnership. The collaboration not only helps youth from foster care navigate an entirely different system of care in adulthood, but it also maintains the connections in their personal and community life offering stability, continuity and support after turning 18.
"This is a great example of focusing on the person who needs help and designing a system to help them thrive through a collaborative community effort. It's what I hoped we would see when we joined the Basic Needs Giving Partnership," said Marne Keller Krikava, secretary of the J. J. Keller Foundation board.
The $70,000 grant to Bay Area Workforce Development will help sustain the collaboration to support a vulnerable population – youth aging out of foster care.
Big Brothers Big Sisters of East Central Wisconsin: $100,000 Grant
Finally, a $100,000 grant was awarded to Big Brothers Big Sisters of East Central Wisconsin.
"We all need just one person to believe in us. As we come out of the pandemic, we want to inspire people to think differently about volunteering and supporting children and youth who need someone to believe in them. We want to support Big Brothers Big Sisters through their greatest time of need to become something BIG for this community," stated Brian Keller, director of the J. J. Keller Foundation.
The $100,000 grant is to support Big Brothers Big Sisters develop a future framework for innovating volunteer recruitment for Bigs and testing individualized growth plans for Littles – creating connections to help youth thrive with the help of a caring adult.
The Keller family has distributed grants in a variety of ways since the establishment of the foundation in 1991. Originally the foundation was a birthday gift from Jack Keller to Ethel Keller on her 70th birthday. Following the death of family matriarch, Ethel, in 2004 and then her husband Jack in 2007 their estate supported the growth of the foundation. Today, the foundation typically grants nearly $4 million per year. Since 1991, a total of $70 million has been granted from the J. J. Keller Foundation.
Next Milestone: $100 Million for the Region's Most Vulnerable
As the Kellers look toward their next giving milestone, they will continue to support the causes and consequences of poverty, in addition to testing different ways to support the most vulnerable in our community.
"We're on a mission to get at the root causes of these issues and make a difference in the lives of individuals and in our community as a whole," said James (Jim) Keller, vice president and treasurer of the J. J. Keller Foundation board. "Mom and Dad tried to inspire others to give, and we're carrying that torch for them today. Mom always said, 'Everyone can give something. If you don't have money, give of your time and your talents,' and that inspired us to think differently. They were great role models."
Learn more about the J. J. Keller Foundation at jjkellerfoundation.org.
For more information, contact: