Back to Press Releases
FOR IMMEDIATE RELEASE (October 20, 2021)
J. J. Keller Fills Unmet Need for Improving Yard Driver Safety and Efficiency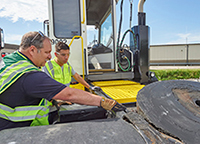 Neenah, WI - Fleets of all sizes rely on yard drivers to move trailers safely and efficiently around the yard, yet little training exists to help these drivers learn the unique skills this role demands. To close that gap, J. J. Keller & Associates, Inc. has introduced a hands-on Yard Driver Training program as part of its J. J. Keller® Safe & Smart Driver Training.
"Skilled yard drivers are invaluable in maintaining yard efficiency and avoiding costly damage to vehicles," said Mark Schedler, senior transportation management editor at J. J. Keller. "Due to the tight spaces and other workers present in the yard, the risks from backing, striking fixed objects, and incidents involving pedestrians is high, particularly during nighttime movements."
Schedler added that drivers who operate yard trucks in any area open to public travel, even if on private property, are subject to the Federal Motor Carrier Safety Regulations, with off-highway operations covered by OSHA safety regulations. This means these drivers must also understand which regulations apply to them and how to stay in compliance.
J. J. Keller's Yard Driver Training delivers a curriculum of online courses combined with classroom and range training that is customized to cover the relevant regulatory requirements faced by each client. The training covers vehicle controls, vehicle inspections, maneuvering and backing, and coupling and uncoupling. Training is provided by a veteran J. J. Keller instructor using a company yard truck or rented comparable vehicle to ensure the training is as relevant as possible.
According to Dustin Kufahl, J. J. Keller's director of driver training, "Hands-on training is essential for helping yard drivers truly understand how to operate safely. That's why we designed our new Yard Driver Training program to include a range experience that gives drivers the opportunity to apply their newfound knowledge, skills and behaviors in a safe, closed-course environment."
For more information about J.J. Keller's new Safe & Smart Yard Driver Training program, visit JJKellerSafeandSmart.com/YardJockey or call 833-982-1236.
About J. J. Keller & Associates, Inc.
J. J. Keller & Associates, Inc. is the most respected name in safety and regulatory compliance. Since its beginning as a one-man consulting firm in 1953, the company has grown to over 1,500 associates serving more than 500,000 customers — including over 90% of the Fortune 1000® companies. The company's subject-matter expertise spans nearly 1,500 topics, and its diverse solutions include ELogs and mobile technology; training via online courses, streaming video or DVD; online management tools; managed services; consulting services; online and print publications; forms and supplies.
Transportation professionals rely on J. J. Keller's in-house expertise and wide selection of products and services to reduce risk and improve regulatory compliance, performance management, and operational efficiency. For more information, visit JJKeller.com
For more information, contact: