Back to Press Releases
FOR IMMEDIATE RELEASE (March 22, 2023)
J. J. Keller Expands Selection of J. J. Keller Cargo Securement Straps and Supplies Ahead of Roadcheck 2023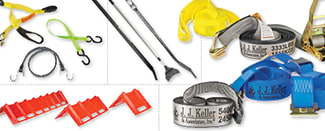 Neenah, WI - J. J. Keller & Associates, Inc. recently expanded its line of cargo securement devices to include additional J. J. Keller® cargo securement straps and Doleco cargo securement devices, including tow and recovery straps.
The timing couldn't be better, with CVSA's upcoming Roadcheck May 16-18. One of the focus areas is cargo securement — 1,934 related violations and 10.6% of out-of-service vehicle violations were attributed to cargo securement during Roadcheck 2022.
"J. J. Keller's expanded selection of cargo securement straps and supplies will allow us to keep costs lower for customers and better ensure supplies are available when they need them," said J. J. Keller senior portfolio leader Kevin Kucksdorf. "Our goal is to provide an unmatched product range along with the best customer service in the industry."
J. J. Keller offers a large line of cargo securement products and services — from securement straps and devices to training programs, handbooks and consulting — designed specifically to help customers ensure their cargo is secured and their drivers know how to secure it.
J. J. Keller & Associates, Inc.
Since we began as a family-owned company in 1953, our purpose at J. J. Keller & Associates, Inc. has been to protect people and the businesses they run. Today, serving 500,000+ companies across North America, our associates are proud to make a larger impact than ever. Transportation, construction and industrial organizations of all sizes rely on our expert insights to create safe work environments and simplify complex government regulations. They trust our diversified portfolio of solutions – cloud-based management tools, consulting, professional services, training, forms, PPE and safety supplies – to safeguard workers, reduce risk and build operational confidence. JJKeller.com.
For more information, contact: