Back to Press Releases
FOR IMMEDIATE RELEASE (December 10, 2015)
J. J. Keller® ELD Solution Will Be Compliant with New Rules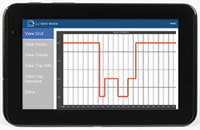 Neenah, WI - After review of the FMCSA rule that mandates the use of electronic logging devices (ELDs) by December of 2017, J. J. Keller has announced that their E-Log solution will require only minor software updates to comply with the new rule.
"We are pleased to see that FMCSA has expressly allowed the use of mobile devices for E-Logging, which J. J. Keller views as critical to providing a low-cost and flexible option," said J. J. Keller's Executive Vice President & COO, Rustin Keller. "We believe we can adjust to the rule with software updates alone and our current ELD will not need any hardware changes. This will allow our customers to use the equipment they have, with no costly swap outs."
The J. J. Keller® Encompass® E-Log system is compatible with iPhone®, iPad® and Android™ smart devices, allowing fleets an affordable bring-your-own-device option. With the J. J. Keller Mobile® E-Log app installed, the driver's smart device communicates via Bluetooth® with the J. J. Keller® ELD. Fleets can also choose to use the J. J. Keller® Compliance Tablet™ that has a dedicated E-Log app.
About J. J. Keller & Associates, Inc.
Since its beginning as a one-man consulting firm in 1953, J. J. Keller & Associates, Inc. has grown to become the most respected name in safety and regulatory compliance. Now over 1,400 associates strong, J. J. Keller serves over 420,000 customers — including over 90% of the Fortune 1000® companies. The company's subject-matter expertise spans nearly 1,500 topics, and its diverse solutions include E-Logs and mobile technology; training via online courses, streaming video or DVD; online management tools; managed services; consulting services; online and print publications; forms and supplies.
Transportation professionals rely on J. J. Keller® in-house expertise and wide selection of products and services to reduce risk and improve regulatory compliance, performance management and operational efficiency. For more information, visit JJKeller.com.
For more information or a high-resolution image, please contact:
Mary Borsecnik
Corporate Marketing Communications Specialist
J. J. Keller & Associates, Inc.
1-800-843-3174, ext. 7050
Email: mborsecnik@jjkeller.com