Back to Press Releases
FOR IMMEDIATE RELEASE (September 19, 2018)
J. J. Keller Earns Great Place to Work® Certification for Third Straight Year
Associates Give Company High Marks for Fairness, Community Commitment, Work-Life Balance & Family Atmosphere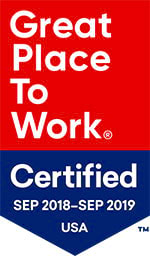 Neenah, WI - J. J. Keller & Associates, Inc., the nation's leading provider of regulatory, safety and compliance solutions, has been certified as a great workplace by the independent analysts at Great Place to Work®. This is the third year in a row J. J. Keller has earned this designation, which is based on extensive ratings provided by associates in anonymous surveys. A summary of these ratings can be found at http://reviews.greatplacetowork.com/j-j-keller-associates-inc.
Highlights
Great Challenges
Great Atmosphere
Great Rewards
Great Pride
Great Communication
Great Bosses
"This honor is special to us because it is really given to the company by our own associates," said Rustin Keller, president and CEO. "Even with our associates telling us this is a great place to work, we continually seek ways we can improve their experience. Their knowledge and their commitment to our customers makes us a growing and successful company, so we want to ensure they have a high-trust and supportive environment."
Keller's grandfather founded the company in 1953 as a one-man consulting firm. His vision was to build a team of associates with shared responsibilities and shared results. As a family-owned business, J. J. Keller has stayed true to this "Associate Principle" along with a core set of values and strategic beliefs. These have served the company well. Today, the company has grown to approximately 1,400 associates in the Fox Valley as well as remote work locations across the United States.
Using employee feedback, the Great Place to Work Trust Index© Survey assesses organizations on five principles – credibility, fairness, respect, camaraderie and pride – that define the overall concept of what an employee views as a great workplace. J. J. Keller associates completed 1,069 surveys, resulting in a 90 percent confidence level and a margin of error of ± 1.21.
About J. J. Keller & Associates, Inc.
Serving more than 600,000 customers, including 90% of the Fortune 1000® companies, J. J. Keller & Associates, Inc. is the nation's leading provider of regulatory, safety and compliance solutions. Organizations of all sizes rely on our expert insights to help create safe work environments and simplify the complexities of regulatory compliance. Our diversified portfolio of solutions and services, including electronic logging, mobile technologies, online management tools, publications, training, forms, supplies, consulting and professional services, is trusted to safeguard workers, reduce risk and build operational confidence. As a privately-held, family-owned company since 1953, we are committed to helping protect lives every day. www.jjkeller.com.
About Great Place to Work®
Great Place to Work® is the global authority on high-trust, high-performance workplace cultures. Through proprietary assessment tools, advisory services, and certification programs, including Best Workplaces lists and workplace reviews, Great Place to Work® provides the benchmarks, framework, and expertise needed to create, sustain, and recognize outstanding workplace cultures. In the United States, Great Place to Work® produces the annual Fortune "100 Best Companies to Work For®" list and a series of Great Place to Work® Best Workplaces lists including lists for Millennials, Women, Diversity, Small and Medium Companies and over a half dozen different industry lists. Follow Great Place to Work online at www.greatplacetowork.com and on Twitter at @GPTW_US.
For more information, contact:
Susan Baranczyk
Corporate Communications
J. J. Keller & Associates, Inc.
1-920-727-7391
Email: sbaranczyk@jjkeller.com