Back to Press Releases
FOR IMMEDIATE RELEASE (July 5, 2019)
J.J. Keller Continues Helping Safety & Compliance Professionals with Free Educational Events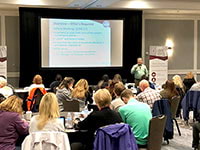 Neenah, WI - Improving knowledge of regulatory changes and safety best practices has been a common theme among attendees of the nearly 60 complimentary seminars hosted by J.J. Keller & Associates, Inc. during the first half of 2019. And that trend looks to continue with nearly 25 more events scheduled for the third quarter of this year.
"The popularity of our free safety and compliance events is a testament to the commitment companies are showing to building their safety culture," said Tom Reader, senior director of marketing at J.J. Keller. "We've repeatedly heard from attendees that they appreciate the practical knowledge our expert presenters provide, along with the interactive discussions for getting exactly the information attendees need to make meaningful enhancements at their facilities."
These free, full-day events taking place around the country, each focus on a specific topic ranging from DOT risk mitigation to driver compliance, OSHA regulatory updates, trends in environmental compliance, and more.
For a schedule of J.J. Keller's upcoming educational events, visit JJKeller.com/events.
About J. J. Keller & Associates, Inc.
J. J. Keller & Associates, Inc. is the most respected name in safety and regulatory compliance. Since its beginning as a one-man consulting firm in 1953, the company has grown to over 1,400 associates serving more than 600,000 customers — including over 90% of the Fortune 1000® companies. With subject-matter expertise spanning a multitude of industries and regulatory agencies, the company offers consulting and managed services for fleet and transportation, workplace safety and environmental, and human resources. In addition to these professional services, J. J. Keller also offers electronic logging devices, training, online management tools, publications, and forms and supplies. For more information on how to reduce risk and improve regulatory compliance, visit JJKeller.com.
For more information, contact: