Back to Press Releases
FOR IMMEDIATE RELEASE (October 25, 2019)
J.J. Keller® Consulting Services On Fastest-Growing Firms List for Fifth Straight Year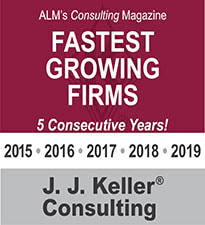 Neenah, WI - ALM's Consulting magazine has named J.J. Keller® Consulting to its list of fastest-growing firms for the fifth consecutive year.
J.J. Keller & Associates, Inc. is the nation's leading provider of safety and regulatory compliance solutions, and offers consulting services in the areas of transportation, hazardous materials, construction, human resources, and environmental health and safety.
"Our continued growth is due in large part to our customized programs that help companies build a stronger, sustainable approach to improving safety and compliance," said Steve Murray, vice president of content and consulting services at J.J. Keller. "Every one of our Consultants provides world-class expertise in the areas of safety management controls, performance tracking, employee training, and policy development and review. Combine that with our unlimited regulatory support and suite of J.J. Keller solutions, and we're able to deliver a truly comprehensive service."
Each year, Consulting magazine releases its annual ranking of the fastest growing consulting firms as ranked by their growth over the past three-year period.
For more information about J.J. Keller® Consulting Services, visit JJKeller.com/Consulting or call 888-473-4638.
About J. J. Keller & Associates, Inc.
J. J. Keller & Associates, Inc. is the most respected name in safety and regulatory compliance. Since its beginning as a one-man consulting firm in 1953, the company has grown to over 1,400 associates serving more than 600,000 customers — including over 90% of the Fortune 1000® companies. With subject-matter expertise spanning a multitude of industries and regulatory agencies, the company offers consulting and managed services for fleet and transportation, workplace safety and environmental, and human resources. In addition to these professional services, J. J. Keller also offers electronic logging devices, training, online management tools, publications, and forms and supplies. For more information on how to reduce risk and improve regulatory compliance, visit JJKeller.com.
For more information, contact: