Back to Press Releases
FOR IMMEDIATE RELEASE (November 8, 2017)
J. J. Keller® Consulting Services Lands On Fastest Growing Firms List For Third Straight Year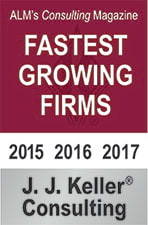 Neenah, WI - ALM's Consulting magazine has named J. J. Keller® Consulting to its Fastest-Growing Firms list for the third consecutive year.
The company offers consulting services in the areas of transportation, workplace, and hazardous materials safety, as well as environmental and employment law compliance.
"We've transitioned our business from a static regulatory resource for our clients to a being a mentor in our clients' quest to implement industry-leading safety and compliance programs," said Steve Murray, senior director of consulting services at J. J. Keller & Associates, Inc. "Our clients have responded by regularly engaging our teams in ways that enable them to not only meet regulatory requirements, but take significant strides in keeping their people safe every day."
Consulting magazine's list honors consulting firms of all sizes and from all sectors. Firms are ranked by their growth between 2013 and 2016.
"With mind-numbing growth, there's absolutely no doubt these 75 consulting firms are disrupting the industry from the bottom up — they are the profession's Fastest Growing Firms for 2017," said Joe Kornik, publisher & editor in chief of Consulting magazine. "We want to bring these fast-growing firms to the forefront — they are the future of consulting."
About J. J. Keller & Associates, Inc.
Serving more than 600,000 customers, including 90% of the Fortune 1000® companies, J. J. Keller & Associates, Inc. is the nation's leading provider of regulatory, safety and compliance solutions. Organizations of all sizes rely on our expert insights to help create safe work environments and simplify the complexities of regulatory compliance. Our diversified portfolio of solutions and services including online management tools, publications, training, forms, supplies, consulting and professional services is trusted to safeguard workers, reduce risk and build operational confidence. As a privately-held, family-owned company since 1953, we are committed to helping protect lives every day. www.jjkeller.com.
For more information, contact:
Mary Borsecnik
Corporate Marketing Communications Specialist
J. J. Keller & Associates, Inc.
1-800-843-3174, ext. 7050
Email: mborsecnik@jjkeller.com