Back to Press Releases
FOR IMMEDIATE RELEASE (March 5, 2019)
J.J. Keller Announces Ethan Bagley as Director of Innovation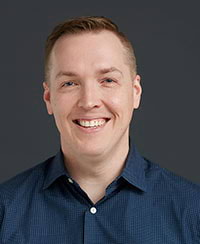 Neenah, WI - J.J. Keller & Associates, Inc. announced that Ethan Bagley has joined the company as director of innovation. Bagley is responsible for driving innovation across the organization, including new product and service ideation, prototype development and product and service launches. The innovation leadership position is part of J.J. Keller's newly formed Research & Development (R&D) area.
Bagley comes to J.J. Keller with more than 15 years' experience in innovation, design, research and leadership. Most recently, he served as the innovation program manager for Amica Mutual Insurance in Rhode Island. He has also held innovation-centered roles as a consultant, innovation catalyst, design sprint leader, facilitator and engineer for commercial and government organizations.
"We look forward to bringing Ethan's passion for innovation to bear as we engage all of our associates in innovation," said Bob Larsen, senior director of R&D at J.J. Keller. "Using a customer-centric approach to research and development, we're building a long-term pipeline of new products and services to help protect people and the businesses they run. We want to anticipate our customers' needs so that we have immediate solutions for them."
Bagley is a certified Master Facilitator and Six Sigma Green Belt, and he has special expertise in design thinking and agile methods. He received his bachelor of science degree in aerospace engineering from the Rochester Institute of Technology, a master of science degree in mechanical engineering from Northeastern University and an MBA with a technology innovation focus from Northeastern University.
Bagley resides in Appleton, Wisconsin, and is based in the J. J. Keller Corporate Campus in Neenah, Wisconsin.
About J.J. Keller & Associates, Inc.
Serving more than 600,000 customers, including 90 percent of the Fortune 1000® companies, J. J. Keller & Associates, Inc. is the nation's leading provider of regulatory, safety and compliance solutions. Organizations of all sizes rely on our expert insights to help create safe work environments and simplify the complexities of regulatory compliance. Our diversified portfolio, including electronic logging, mobile technologies, online management tools, publications, training, forms, supplies, consulting and professional services, is trusted to safeguard workers, reduce risk and build operational confidence. As a privately held, family-owned company since 1953, we are committed to helping protect lives every day. www.jjkeller.com.
For more information, contact:
Susan Baranczyk, Corporate Communications
J. J. Keller & Associates, Inc.
1-920-680-5797
Email: sbaranczyk@jjkeller.com