Back to Press Releases
FOR IMMEDIATE RELEASE (February 8, 2016)
J. J. Keller & Associates, Inc. Addresses ELD Questions with Free Town Hall Webcast
Live forum provides unique Q&A opportunity for transportation professionals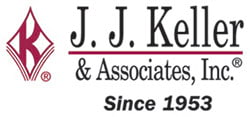 Neenah, WI - Requirements of the new electronic logging device (ELD) final rule have generated questions from professionals across the transportation industry. To address concerns regarding the new regulation, J. J. Keller & Associates, Inc. will host a live question and answer forum with ELD subject-matter experts Tom Bray and Ben Swanson on February 29, 2016 at 2:00 PM CST.
During the free webcast, ELD Town Hall: Your Questions. Expert Answers., editorial and product experts will respond to ELD-related questions submitted directly from the audience prior to and during the live webcast. The unique format supports fleets with specific company, industry and operational questions, which often go unanswered in standard ELD webcasts.
"We receive a lot of questions from fleets concerned about the transition to electronic logging," said Bray. "The live webcast will give attendees the opportunity to address their questions and build their confidence in transitioning to electronic logging solutions."
Responses provided during the 60-minute webcast will incorporate ELD use requirements, technical specifications, industry exceptions and operational considerations — all of which need to be addressed in order for fleets to make informed decisions with regard to the ELD final rule.
To register, visit JJKeller.com/ELDTownHall.
To access additional ELD resources and learn more about J. J. Keller electronic logging solutions, visit JJKeller.com/ELogs.
About J. J. Keller & Associates, Inc.
Since its beginning as a one-man consulting firm in 1953, J. J. Keller & Associates, Inc. has grown to become the most respected name in safety and regulatory compliance. Now over 1,400 associates strong, J. J. Keller serves over 420,000 customers — including over 90% of the Fortune 1000® companies. The company's subject-matter expertise spans nearly 1,500 topics, and its diverse solutions include E-Logs and mobile technology; training via online courses, streaming video or DVD; online management tools; managed services; consulting services; online and print publications; forms and supplies.
Transportation professionals rely on J. J. Keller® in-house expertise and wide selection of products and services to reduce risk and improve regulatory compliance, performance management and operational efficiency. For more information, visit JJKeller.com/ELogs.
For more information, contact:
Mary Borsecnik
Corporate Marketing Communications Specialist
J. J. Keller & Associates, Inc.
1-800-843-3174, ext. 7050
Email: mborsecnik@jjkeller.com