Press Room
News Releases
FOR IMMEDIATE RELEASE (August 20, 2015)
J. J. Keller 2015 Safety Professional Of The Year Award Winners Announced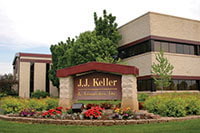 Neenah, WI - Frank Olivas, safety director for PRIDE Industries of Roseville, Calif., has been named the 2015 Safety Professional Of The Year (SPOTY) by J. J. Keller & Associates, Inc.
Olivas and his safety team have reduced the accident rate (number of OSHA recordable injuries x 200,000/man hours worked) at PRIDE to just 1.6, well below the industry average of 3.9. This achievement is made more remarkable by the unique challenges Olivas faces, including communicating with the company's Spanish-speaking and disabled employees. He provides safety information in both English and Spanish, and uses job coaches who communicate with hand signals for hearing-impaired employees.
John Brunner, health and safety manager at Essentra Specialty Tapes in Forest Park, Ill., earned a second-place SPOTY award. Brunner employs the behavior-based S.T.E.P. (Stop, Think, Examine, Proceed) program to involve employees and get them to identify hazards and preventive measures.
Robert Steeb, safety manager for Sargento Foods, Inc. in Plymouth, Wis., received the third-place SPOTY award. Steeb implemented the Nobody Falls Campaign to increase awareness of slips, trips and falls. The campaign included online articles, pamphlets, posters, and an engaging video to educate employees on how to prevent these types of accidents.
"We commend this year's award winners for their remarkable commitment to safety improvement," said Rustin Keller, executive vice president & COO at J. J. Keller. "It's individuals like these who help American workers go home safely to their families each day."
The winners will be recognized in a ceremony at J. J. Keller in September. Each winner will receive a cash prize, plaque, certificate, and complimentary KellerOnline® subscriptions.
Since 2002, J. J. Keller has recognized industry professionals who have demonstrated unique, engaging and effective approaches to their safety programs, awarding over $150,000 in cash and prizes through the SPOTY award program.
About J. J. Keller & Associates, Inc.
Since its beginning as a one-man consulting firm in 1953, J. J. Keller & Associates, Inc. has grown to become the most respected name in safety and regulatory compliance. Now over 1,300 associates strong, J. J. Keller serves over 420,000 customers — including over 90% of the Fortune 1000® companies. The company's subject-matter expertise spans nearly 1,500 topics, and its diverse solutions include training via online courses, streaming video or DVD; online management tools; managed services; consulting services; online and print compliance manuals and instructional publications; E-Logs and mobile technology, forms and supplies.
Safety professionals rely on J. J. Keller® in-house expertise and wide selection of products and services to reduce risk and improve regulatory compliance, performance management and operational efficiency. For more information, visit JJKeller.com.
For more information, contact:
Mary Borsecnik
Corporate Marketing Communications Specialist
J. J. Keller & Associates, Inc.
1-800-843-3174, ext. 7050
Email: mborsecnik@jjkeller.com