Press Room
News Releases
FOR IMMEDIATE RELEASE (July 29, 2015)
J. J. Keller & Associates, Inc. and J. J. Keller Foundation complete 12th Habitat for Humanity build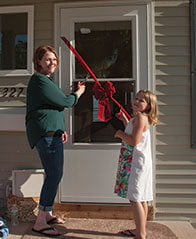 Neenah, WI - In a dream come true, Erika Hall and her daughter Amaya received the keys to their new Habitat for Humanity home in a dedication ceremony held Thursday, July 23rd.
Their Neenah, Wis. home represents the 12th home funded by the John and Ethel Keller family (either through the family foundation or their fund at the Community Foundation for the Fox Valley region) in cooperation with J. J. Keller & Associates, Inc. Construction of the home started in April, with a combination of J. J. Keller associate volunteers, Habitat senior crew members, and Erika herself putting in hundreds of hours of hard work to complete the home in four short months.
"What Amaya and I are feeling today is a crazy mix of joy, relief, disbelief, hopefulness, and about a thousand other feelings that are making our heads spin in the best possible way," said Erika. "To see our home, complete and ready for Amaya and I to start a new chapter in, brings a very significant sense of peace."
In attendance at the dedication were representatives from the Greater Fox Cities Area Habitat for Humanity and the J. J. Keller Foundation, local officials, as well as many of the family's friends and relatives.
"Habitat was near and dear to the hearts of Jack and Ethel Keller, and it's wonderful to see their giving legacy perpetuated in this manner," said J. J. Keller Foundation Executive Director Mary Harp-Jirschele. "I know they'd be very proud of the great hands-on work by J. J. Keller associates and well as the funding role played by the foundation."
About J. J. Keller & Associates, Inc.
Since its beginning as a one-man consulting firm in 1953, J. J. Keller & Associates, Inc. has grown to become the most respected name in safety and regulatory compliance. Now over 1,300 associates strong, J. J. Keller serves over 420,000 customers — including over 90% of the Fortune 1000® companies. The company's subject-matter expertise spans nearly 1,500 topics, and its diverse solutions include E-Logs and mobile technology; training via online courses, streaming video or DVD; online management tools; managed services; consulting services; online and print publications; forms and supplies.
Professionals in transportation, manufacturing, hazardous materials, construction, and human resources rely on J. J. Keller® in-house expertise and wide selection of products and services to reduce risk and improve regulatory compliance, performance management and operational efficiency. For more information, visit JJKeller.com.
About J. J. Keller Foundation, Inc
Founded in 1990, the J. J. Keller Foundation, Inc. is a private, family foundation that provides charitable funding to many worthwhile groups within the local community. Partnering up to spread more good, the J. J. Keller Foundation has supported a number of collaborations that help maximize its impact on organizations from Green Bay to Appleton to Oshkosh. These partnerships have addressed children's behavioral health, food pantries and a host of other programs that work to meet basic needs. For more information, go to www.jjkellerfoundation.org
For more information, call 800-327-6868