Back to Press Releases
FOR IMMEDIATE RELEASE (July 30, 2019)
Jeff Ferrell Promoted to Director of Field Sales for J.J. Keller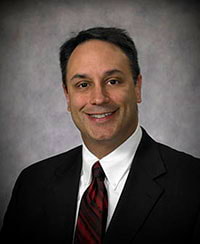 Neenah, WI - J.J. Keller & Associates, Inc. announced that Jeff Ferrell has recently been appointed to Director of Field Sales – National Accounts. He began with J.J. Keller in 2008 and, after a brief departure, returned to the company in October 2017. He brings with him more than 32 years of collective sales and operations management within the transportation industry.
In prior positions at J.J. Keller, Ferrell played an integral role in the launch of both the Field and National Accounts sales platforms. As Director of the National Accounts sales team, Ferrell will lead the sale of safety and regulatory compliance solutions for a broad range of customers while collaborating with fellow business unit leaders to identify opportunities to expand the company's offerings long term.
"Jeff's experience, relationship-building abilities, and knowledge of the industry make him an invaluable member of the J.J. Keller team," said Chad Govin, vice president of sales for J.J. Keller & Associates, Inc. "We are grateful to have his expertise as we continue to evaluate and meet the needs and expectations of our customers."
Ferrell received his BBA in Marketing from Georgia State University, holds the designation of Certified Transportation Professional (CTP), and has earned Acclivus Sales Negotiation, Counselor Sales Professional and Professional Selling Skills accreditations.
Ferrell is based in Birmingham, Alabama.
About J. J. Keller & Associates, Inc.
J. J. Keller & Associates, Inc. is the nation's leading provider of regulatory, safety and compliance solutions, serving more than 600,000 customers, including 90% of the Fortune 1000® companies. Organizations of all sizes rely on our expert insights to help create safe work environments and simplify the complexities of regulatory compliance. Our diversified portfolio of solutions and services including online management tools, publications, training, forms, supplies, consulting and professional services is trusted to safeguard workers, reduce risk and build operational confidence. As a privately-held, family-owned company since 1953, we are committed to helping protect lives every day. www.jjkeller.com.
For more information, contact:
Becca Brown, Marketing Communications Specialist
J. J. Keller & Associates, Inc.
1-920-967-7050
Email: rbrown@jjkeller.com