Back to Press Releases
FOR IMMEDIATE RELEASE (October 1, 2019)
J.J. Keller Receives Patent for Electronic Logging Technology
Patent Provides Compatibility with Different Types of Vehicle Diagnostic Ports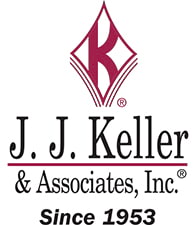 Neenah, WI - The United States Patent and Trademark Office has issued U.S. Patent No. 10,417,844 to J.J. Keller & Associates, Inc. J.J. Keller now has 15 patents related to electronic logging technology.
The Federal Motor Carrier Safety Administration (FMCSA) Electronic Logging Device (ELD) mandate calls for the electronic generation of long-haul driver log book data and hours-of-service reports. The United States Department of Transportation (US DOT) requires the driver status be determined.
The J.J. Keller patent relates to firmware or software which receives telematics data from the vehicle and processes the telematics data along with information provided on a mobile device to create ELD Events. The patent relates to technology that improves compatibility with different types of vehicle diagnostic ports and, thereby, provides a hardware agnostic solution. This allows the ELD Event Generator to reside on multiple platform types to aid in recording vehicle movements thus satisfying the FMCSA's ELD Mandate.
"This patent further extends J.J. Keller's intellectual property portfolio," said Rustin Keller, president and CEO of J.J. Keller & Associates, Inc. "With a focus on our customers' daily challenges and a dedicated innovation team, we're able to provide a unique combination of product features backed by a deep understanding of regulatory requirements."
J.J. Keller & Associates, Inc. offers a broad portfolio of electronic logging solutions to drive efficiency and cost savings on multiple levels for motor carriers of all sizes.
About J. J. Keller & Associates, Inc.
Serving more than 600,000 customers, including 90 percent of the Fortune 1000® companies, J. J. Keller & Associates, Inc. is the nation's leading provider of regulatory, safety and compliance solutions. Organizations of all sizes rely on our expert insights to help create safe work environments and simplify the complexities of regulatory compliance. Our diversified portfolio, including electronic logging, mobile technologies, online management tools, publications, training, forms, supplies, consulting and professional services, is trusted to safeguard workers, reduce risk and build operational confidence. As a privately held, family-owned company since 1953, we are committed to helping protect lives every day. JJKeller.com
For more information, contact: