Back to Press Releases
FOR IMMEDIATE RELEASE (September 13, 2017)
J. J. Keller & Associates, Inc. Receives Patent for Automatic Detection of Vehicle Movement
Latest patent covers a method for detecting vehicle movement within a geo-fenced yard.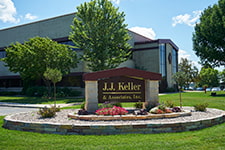 Neenah, WI — J. J. Keller & Associates, Inc. announced today that the United States Patent and Trademark Office has issued U.S. Patent No. 9,761,138, relating to technology that records and calculates the position of a commercial motor vehicle (CMV). The patent describes the use of an electronic logging device (ELD) to detect the location and movement of a vehicle using GPS communication within a geo-fenced yard, which is a physical area with virtual boundaries. It also describes automatically detecting the start and end of movement within the yard.
"We are continually investing in innovation that can help our customers meet new and developing regulatory and compliance requirements," said Rustin Keller, executive vice president and chief operating officer for J. J. Keller & Associates, Inc. "This patent reflects our expertise in creating flexible and cost-effective solutions to meet our customers' ever-changing needs."
With a Federal Motor Carrier Safety Administration mandate calling for the electronic generation of long-haul driver log book data and hours of service reports, ease in detecting vehicle movement using GPS communication has become critical for motor carriers. The U.S. Department of Transportation requires the monitoring of CMVs using GPS positioning, and also requires that the driver status be determined.
J. J. Keller & Associates, Inc. offers a broad portfolio of electronic logging solutions to drive efficiency and cost savings on multiple levels for carriers of all sizes.
About J. J. Keller & Associates, Inc.
Serving more than 600,000 customers, including over 90% of the Fortune 1000® J. J. Keller & Associates, Inc. is the nation's leading provider of regulatory, safety and compliance solutions. Organizations of all sizes rely on our expert insights to help create safe work environments and simplify the complexities of regulatory compliance. Our diversified portfolio of solutions and services, including online management tools, publications, training, forms, supplies, consulting and professional services, are trusted to safeguard workers, reduce risk and build operational confidence. As a privately held, family-owned company since 1953, we are committed to helping protect lives every day. For more information, visit JJKeller.com or jjkellerelogs.com
For more information, contact:
Mary Borsecnik
Corporate Marketing Communications Specialist
J. J. Keller & Associates, Inc.
1-800-843-3174, ext. 7050
Email: mborsecnik@jjkeller.com