Back to Press Releases
FOR IMMEDIATE RELEASE (October 10, 2017)
J. J. Keller & Associates, Inc. Adds to List of FMCSA Registered ELD Solutions
Expanded offering provides compatibility with a variety of iPhone® and iPad® smart devices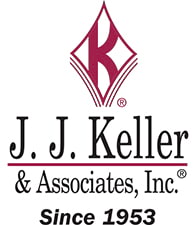 Neenah, WI — J. J. Keller & Associates, Inc. is pleased to announce the placement of additional J. J. Keller Mobile® ELog solutions for iPhone® and iPad® devices on the FMCSA ELD registry. This brings the total of J. J. Keller certified and FMCSA registered ELD solutions to six. Earlier registrations included J. J. Keller hardware using Android™ devices and the J. J. Keller® Compliance Tablet™.
"Providing fleets with an ELD that is compatible with their existing iPhone®, iPad® or Android™ device reduces up-front hardware costs and eliminates the need for additional data plans," says Rustin Keller, executive vice president and chief operating officer for J. J. Keller & Associates, Inc. "We have many Encompass customers who prefer Apple devices and run multiple applications in support of their business demands. They are loyal to their device and we support their choice."
The mandate requires fleets to use a vendor-certified and FMCSA registered electronic logging device as of December 18, 2017. Proper certification and registration confirm the ELD and associated system is able to accurately capture and store a driver's hours of service, and make this information usable to enforcement personnel during roadside inspections and audits.
Beyond meeting the technical specifications of the final rule, the J. J. Keller® Encompass® Fleet Management System with ELogs is backed by 65 years of Hours of Service expertise and offers over-the-air updates to ensure quick compliance with regulatory changes. The system is compatible with all vehicle classes and most smart devices, includes multiple Hours of Service rule sets, and offers options from ELogs only to full performance management.
About J. J. Keller & Associates, Inc.
Since its beginning as a one-man consulting firm in 1953, J. J. Keller & Associates, Inc. has grown to become the most respected name in safety and regulatory compliance. Now over 1,400 associates strong, J. J. Keller serves over 600,000 customers — including over 90% of the Fortune 1000® companies. The company's subject-matter expertise spans nearly 1,500 topics, and its diverse solutions include ELogs and mobile technology; training via online courses, streaming video or DVD; online management tools; managed services; consulting services; online and print publications; forms and supplies.
Transportation professionals rely on J. J. Keller's in-house expertise and wide selection of products and services to reduce risk and improve regulatory compliance, performance management, and operational efficiency. For more information, visit JJKeller.com.
Apple, iPhone and iPad are trademarks of Apple, Inc. registered in the U.S. and other countries. Android is trademark of Google Inc.
For more information, contact:
Mary Borsecnik
Corporate Marketing Communications Specialist
J. J. Keller & Associates, Inc.
1-800-843-3174, ext. 7050
Email: mborsecnik@jjkeller.com