Back to Press Releases
FOR IMMEDIATE RELEASE (June 20, 2019)
HR Pros Can Test J.J. Keller Virtual Reality Sexual Harassment Prevention Training at 2019 SHRM Conference
Leader in Safety & Compliance Offers Free Google Cardboard and Sexual Harassment Prevention Training App Access to 100 HR Pros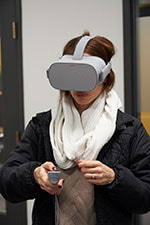 Neenah, WI - J.J. Keller & Associates, Inc., the nation's leader in safety and compliance solutions for employers, will give HR professionals the chance to experience virtual reality training firsthand at the 2019 SHRM Exposition in Las Vegas, Nevada, beginning Sunday, June 23.
Up to 100 SHRM Conference & Exposition attendees will receive a free Google Cardboard and temporary access to J.J. Keller's new 360-degree, virtual reality Sexual Harassment Prevention Training app prototype. Those trying the app will be able to provide feedback directly to J.J. Keller product developers, who will be on site, and thus help shape this breakthrough employee training product.
Virtual Reality Training Uses Research-Based Approach to Sexual Harassment Prevention
In addition to innovating sexual harassment prevention training with virtual reality technology, the training uses a new, academically researched approach designed around the positive role of the helpful bystander. Developed in cooperation with a leading sexual harassment training expert and researcher, the program helps employees experience how they can intervene on behalf of their co-workers.
"The bystander approach is based on my own research on employee reactions to sexual harassment training and is designed to reduce backlash reactions to training," said Shannon Rawski, Ph.D. "J.J. Keller's training doesn't just stop at presenting the legal definitions; it helps employees understand the social complexity of sexual harassment and ways to establish respectful workgroup norms."
Research continues to show that the bystander approach is much more effective than conventional training programs. In fact, leading agencies like the EEOC and the California Department of Fair Employment and Housing have begun recommending it.
Those attending the SHRM Conference can take part in the virtual reality testing at the J.J. Keller booth, #2734.
About J. J. Keller & Associates, Inc.
J. J. Keller & Associates, Inc. is the most respected name in safety and regulatory compliance. Since its beginning as a one-man consulting firm in 1953, the company has grown to over 1,400 associates serving more than 600,000 customers — including over 90% of the Fortune 1000® companies. The company's subject-matter expertise spans nearly 1,500 topics and its diverse solutions include training via online courses, streaming video or DVD; online management tools; managed services; consulting services; publications; ELogs and mobile technology, forms and supplies. HR professionals rely on J. J. Keller's in-house expertise and wide selection of products and services addressing core HR topics — including FMLA, ADA, HIPAA, FLSA, and employment law — to reduce risk and improve regulatory compliance, and performance management. For more information, visit JJKeller.com.
For more information, contact: