Back to Press Releases
FOR IMMEDIATE RELEASE (September 1, 2020)
Hours of Service Rule Changes, Violations Drive Need for Additional Training
J. J. Keller's New Hours of Service (HOS) Training Now Available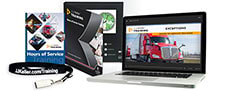 Neenah, WI - In 2019, four out of the top five driver out-of-service violations were related to hours of service. Couple that with the hours of service rule changes taking effective September 29, and experts say it's even more important for motor carriers and private fleets to retrain their drivers.
J. J. Keller's new Hours of Service Training program includes the September 29 rule changes involving short-haul drivers, the 30-minute break, the adverse weather driving exception and the sleeper berth exception.
"These new rules add much-needed flexibility to drivers' days, but it's critical that drivers understand how and when they apply in order to avoid violations," said Rick Malchow, J. J. Keller transportation industry business advisor. "Training on the new rules is absolutely essential in order to maintain compliance and keep CSA scores low."
J. J. Keller's Hours of Service Training program is available in English and will be available in Spanish, and is divided into six modules:
Basics
Limits
Recording Your Hours
Exceptions
ELD Basics
How to Complete a Manual Log
The program helps drivers be compliant while maximizing their available hours. Hours of Service Training is offered in USB, Video Training Book, Streaming Video and Online Course formats. The program is now available in English and Spanish programs will be available in early November. Visit JJKeller.com/209014 to learn more.
About J.J. Keller & Associates, Inc.
J. J. Keller & Associates, Inc. is the nation's leading provider of regulatory, safety and compliance solutions, serving more than 600,000 customers, including 90% of the Fortune 1000® companies. Organizations of all sizes rely on our expert insights to help create safe work environments and simplify the complexities of regulatory compliance. Our diversified portfolio of solutions and services including online management tools, publications, training, forms, supplies, consulting and professional services is trusted to safeguard workers, reduce risk and build operational confidence. As a privately-held, family-owned company since 1953, we are committed to helping protect lives every day. www.jjkeller.com.
For more information, contact: