Back to Press Releases
FOR IMMEDIATE RELEASE (April 4, 2019)
Free J.J. Keller Events a Popular Source for Regulatory Insights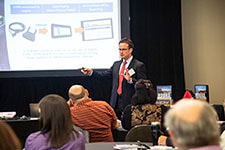 Neenah, WI - Complex and everchanging regulations continue to drive attendance to the complimentary educational events hosted by J.J. Keller & Associates, Inc. across the country. These events focus on specific areas of safety and compliance, including DOT, OSHA and EPA regulations.
"In the first quarter of 2019 alone, we hosted 29 events with a total of approximately 1,405 professionals in attendance," said Tom Reader, senior director of marketing at J.J. Keller. "Attendees really value the in-depth, interactive format of these events, which are delivered by J.J. Keller and other industry experts. The result is a much greater understanding of the regulations, along with insights into common pitfalls, best practices, and strategies for avoiding risk."
J.J. Keller has 24 events planned for the second quarter of 2019, which include three entirely new event topics:
"DOT Risk Mitigation" will inform attendees of how to better reduce exposure related to driver and vehicle compliance.
"Deep Dive Into FMCA Regulations" will help attendees better understand and comply with the driver qualification, drug & alcohol, and hours-of-service regulations.
"OSHA Compliance Forum: Update & Guidance for the Safety Professional" will address the latest changes in OSHA compliance and include a bonus session on workplace violence and active shooter response.
These three events are in addition to J.J. Keller's other free educational events covering a broad range of regulatory topics. For a full schedule of J.J. Keller events, or to register, visit JJKeller.com/events.
About J.J. Keller & Associates, Inc.
J.J. Keller & Associates, Inc. is the most respected name in safety and regulatory compliance. Since its beginning as a one-man consulting firm in 1953, the company has grown to over 1,400 associates serving more than 600,000 customers — including over 90% of the Fortune 1000® companies. With subject-matter expertise spanning a multitude of industries and regulatory agencies, the company offers consulting and managed services for fleet and transportation, workplace safety and environmental, and human resources. In addition to these professional services, J.J. Keller also offers electronic logging devices, training, online management tools, publications, and forms and supplies. For more information on how to reduce risk and improve regulatory compliance, visit JJKeller.com
For more information, contact: